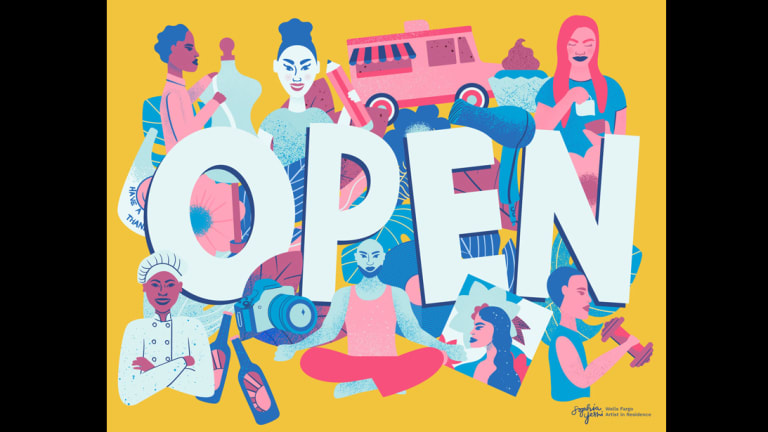 Wells Fargo Taps Sophia Yeshi to Reimagine 'OPEN' Sign as Nod to Small Business
Wells Fargo and Sophia Yeshi found a unique way to highlight the bank's commitment to supporting small business owners with guidance and resources.
Wells Fargo tapped its first-ever Artist-in-Residence Sophia Yeshi, who self-identifies as queer Black and South Asian, to reimagine the iconic "OPEN" sign that often welcomes customers into small businesses across the country.
The simple message "open" has taken on a new meaning during the pandemic as millions of small businesses, especially those owned by people from traditionally marginalized and historically under-supported communities, struggle to persevere through unprecedented challenges and are embarking on a long journey to full recovery. Wells Fargo's artist-in-residence initiative highlights it's ongoing commitment to providing small business owners with tools, guidance, and resources, including grants and loans from nonprofits through the Open for Business Fund. The fund is about $420 million in recovery aid for small businesses hit hardest by the pandemic. The bank first worked with Yeshi, as well as artists Deborah Lee and Gabriela Alemán, to create custom "OPEN" signs that told the unique stories of diverse- and women-owned small businesses. Their stories also inspired Yeshi's recent sign design.
"I'm honored to continue working with Wells Fargo in their pursuit of sharing the stories of resilient small business owners, and making critical resources available to all small businesses as they recover from the pandemic," said Yeshi in a release. "It was very rewarding to shine a light on the stories of individual diverse small businesses as part of my recent collaboration with the bank. With the new 'OPEN' sign I created for my first project as Artist-in-Residence, I'm excited to celebrate the passion and dedication of all small business owners as they begin a new chapter."
As Artist-in-Residence, Yeshi will also share her unique style for internal campaigns and assignments through December 2021 when her residency is expected to end. In addition, she will also provide branding consultations to Wells Fargo small business customers as they revise their businesses in the coming months.
Wells Fargo and Yeshi's collaboration is part of the the "We made a way. Together." campaign, which is helping entrepreneurs gain resources and connect with peers in order to evolve their businesses. The new "OPEN" sign is currently available for download at WellsFargo.com/Together, but small businesses owners will be able to pick up a sign at any Wells Fargo branch later this summer, while supplies last.