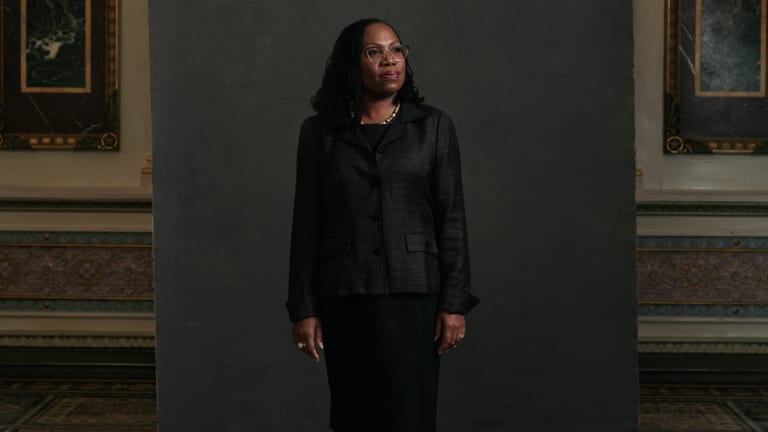 Watch Ketanji Brown Jackson's Swearing in to the Supreme Court
Ketanji Brown Jackson is the first Black woman, 104th Associate Justice, and 116th Justice to sit on the Supreme Court of the United States.
The Honorable Ketanji Brown Jackson was sworn in to the Supreme Court today, June 30, 2022, at noon in the West Conference Room of the Supreme Court of the United States.
Jackson is the first Black woman to sit on the Supreme Court. She is the 104th Associate Justice and the Court's 116th Justice. 
Chief Justice John G. Roberts Jr. administered the Constitutional Oath and Associate Justice Stephen G. Breyer, who Jackson once worked for, will administered the Judicial Oath in the ceremony. Jackson clerked for Breyer after she graduated from Harvard Law School in 1996, and replaced him as an Associate Justice when his retirement became effective at noon.
Jackson's husband Dr. Patrick G. Jackson held the two bibles she rested her left hand on while taking her oath. One was a family bible, and the other is known as the Harlan bible and was donated to the Supreme Court by Justice John Marshall Harlan, reports NPR. Their daughters Talia and Leila also attended the swearing in ceremony.
President Joe Biden made a campaign promise to nominate the first Black woman to the Supreme Court. He announced earlier this year that he chose Jackson to replace Breyer, after appointing her to the United States Court of Appeals for the District of Columbia Circuit in 2021. Jackson was confirmed in April following the Senate's vote of 53 to 47 on her nomination.
"For too long, our government, our courts haven't looked like America," Biden said when he nominated Jackson. "And I believe it's time that we have a court that reflects the full talents and greatness of our nation with a nominee of extraordinary qualifications and that we inspire all young people to believe that they can one day serve their country at the highest level."
"It has taken 232 years and 115 prior appointments for a Black woman to be selected to serve on the Supreme Court of the United States. But we've made it. We've made it. All of us," said Jackson at a White House event following her historic confirmation.
She also quoted the late poet Maya Angelou during her post-confirmation speech, "I do so now while bringing the gifts my ancestors gave. I am the dream and the hope of the slave."
A formal investiture ceremony will take place at a special sitting of the Court in the Courtroom at a later date. Watch Associate Justice Ketanji Brown Jackson's swearing in to the Supreme Court below.