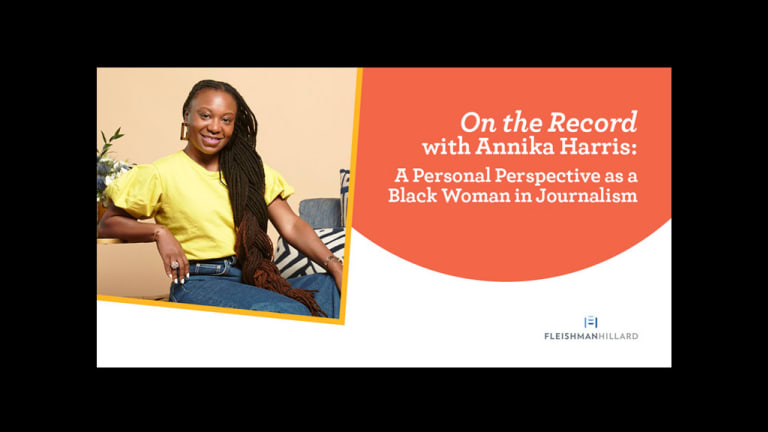 'UPTOWN' Editor Annika Harris Shares Perspective as a Black Woman in Journalism
Annika Harris opened up to FleishmanHillard about experiencing discrimination in journalism and what needs to change.
"On the Record" is publicity firm FleishmanHillard's series where we sit down with our colleagues and friends who are often at the receiving end of our pitch emails – journalists. We will be tackling hot topics, learning and growing from their perspective and thoughtful advice.
In this post, Caitlin Teahan interviews UptownMagazine's Digital Content Director Annika Harris around what it means to be a Black woman in journalism in a time of great social change. Additionally, Annika discusses the larger cultural and social changes taking place that impact day-to-day interactions with colleagues and peers. Their candid Q&A session took place at a safe distance (via video chat), as at the time it was conducted, New York City was still on a shelter-in-place order.
Caitlin Teahan: There has been a lot of change that has impacted the journalism industry in the last few months, the pandemic and our recent social justice movement, specifically. How has this changed your relationship with PR professionals and day-to-day work?
Annika Harris: I've noticed a few publicists who I work with regularly have been more considerate – they try not to inundate you with pitches and have been sending out general emails to check-in to see if you're accepting pitches. I saw some of those when the pandemic started, but I think now they're even more aware of it. I actually had an instance where I was flabbergasted and I was going to respond to the publicist. She reached out because she was representing a DVD vending machine brand – by the way I've never worked with her – and sent me a list of their "Black DVDs." It was just so obvious from the titles she picked that she didn't even research what UptownMagazine was about because it wasn't geared towards a Black audience. For example, they were movies we had seen already or were movies that really don't resonate with us. You can't put films on a list like this just because they have a Black cast in the movie poster.
I ended up just like not even emailing because I didn't want to scold her. I did take a look into her firm and it was a small boutique firm, with no people of color on the staff and I realized, well, that kind of explains why this happened.
Also, there's this attitude or this feeling within the Black community that certain movies aren't necessarily made for us though it might be an all-Black cast. Maybe if they had somebody who was Black on their team, they would have come up with a better list. Some advice –  don't go and put Black actors into a search engine or use the ones on the poster because they seem popular. That isn't doing the research. That's been my experience and if they just spend 30 seconds scrolling through Uptown Magazine it will give them an idea that say, a pitch about Reese Witherspoon might not resonate. I mean, I love Reese Witherspoon, but I'm not going write about that. This was kind of par for the course before –  people not really doing their research. I think as far as blogs that I read, everybody's saying, "We're going to feature Black-owned businesses," and you're kind of thinking, 'OK, is it just for this moment or is this going be like a lasting change?' You know?
Continue reading "On the Record with Annika Harris: A Personal Perspective as a Black Woman in Journalism" here …