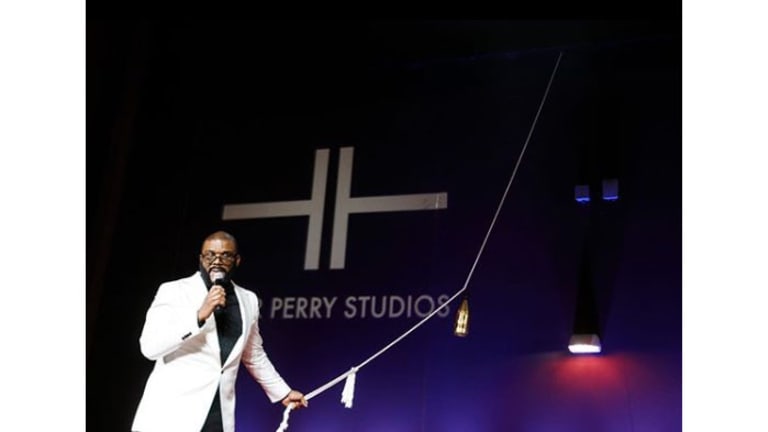 Tyler Perry Talks New Eponymous Studios, His Son Aman, Oprah, and More
The director-producer says he feels good about the diversity his studios will bring to the entertainment industry.
Courtesy ofExtra
Extra was with Tyler Perry ahead of the opening of his brand-new, eponymous studios in Atlanta.
The famous producer told us about building his dream and producing two new series for BET there already.
"It feels amazing," he said. "It feels great. It feels wonderful to be in this position, especially when you see all the crews here. I have been on a lot of sets where I am the only Black person. So even in 2019 ... to be able to have this much color and diversity and culture represented, I feel pretty good about that."
The star opened up about his son Aman with girlfriend Gelila Bekele, saying the nearly 5-year-old doesn't fully comprehend what his dad does yet. Perry explained, "He's just learning to understand what 'cut' and 'action' are, so he has been saying 'cut' and 'action' on set ... He doesn't know what I do ... I want him to be as normal as he can as a kid ... He is starting to ask questions now that are making me go, 'You are paying attention.'"
Perry named all of his 12 sound stages after people who inspired him, including calling Stage 1 "Oprah Winfrey." "That one in particular ... because I really feel like had I not seen her show that day — where she said it was cathartic to write things down — I wouldn't have started writing. That one moment changes everything, so to have her name up there [as] number one — I mean that from the bottom of my soul."
He recently opened up to People magazine about his past and the abuse he endured. He said, "I wanted to reaffirm that whoever you are, wherever you come from, it doesn't dictate your end."
Perry also commented on politics, saying, "Just as in times before, when things were dark and dismal, we find a way to rise, and I feel like there is a counter to all this negativity that is coming. I am waiting for that voice in the wilderness and I am right there with him or her."