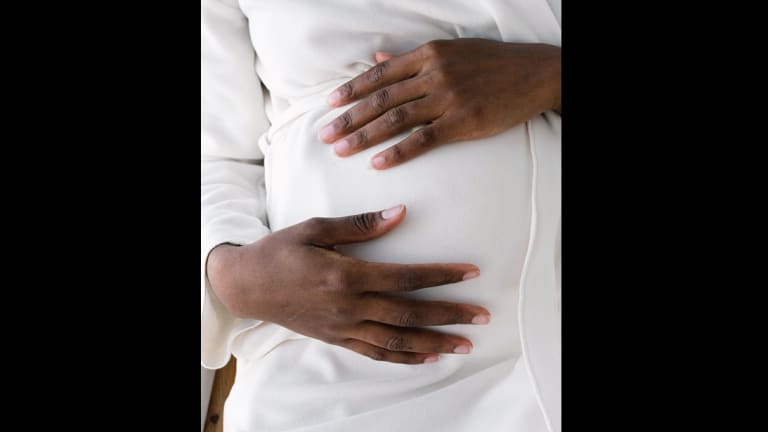 These Celebrity Parents Have Recently Expanded Their Families
Thanks to these celebrity parents, who have recently expanded their families or are awaiting a new baby, we have some joyous news to focus on.
What's sweeter than a bun in the oven or a brand new bundle of joy? Amid all the difficulties brought on by COVID-19 and adjusting to living during a pandemic this past year, we are all about rejoicing to some positivity. So let's celebrate the celebrities who are expanding their families ... and topping headlines, in some cases. Here are some recent shocking, sweetest, or unexpected pregnancy and birth announcements.
The most talked about baby bump was Lil Nas X's. He was expecting a "baby" that was "delivered" in the middle of September. The "Old Town Road" star had been bumping around with a prosthetic belly to promote his highly anticipated debut album. Lil Nas announced his "bundle of joy" September 2nd by posting photos on his Twitter and writing, "SURPRISE! I can't believe I'm finally announcing this. My little bundle of joy 'MONTERO' is due September 17, 2021."
Less than a week after tweeting the baby announcement, Lil Nas released his "baby registry," which was actually for a greater cause. It promoted multiple nonprofits that address the HIV/AIDS epidemic in the Southern United States. The internet trolls are always coming for Lil Nas X, but he and that "baby" have hearts of gold ... and platinum.
Another very shocking pregnancy announcement was that of Jeannie Mai Jenkins and rapper Jeezy. It was a complete surprise for fans of The Real co-host because she has infamously stated that she didn't want children, and her ex-husband Freddie Harteis's desire to expand their family was reportedly a contention in their marriage. 
Mai told Women's Health, which broke the news that she was five months pregnant at the time of publication in September, "My entire life, I never wanted children. When I say never, I'm talking a hard-stop never." However, falling in love with Jeezy changed her mind on being a mother. The 42-year-old revealed that they tried to conceive for more than a year via IVF and suffered a miscarriage shortly before their wedding in March of this year. If our math is correct, Baby J, as the couple is affectionately calling their unborn baby, is due early next year.
Power star Rotimi and his wife Vanessa Mdee are expecting their first child together. The news was shared when he posted an exclusive PEOPLE photo of him and his pregnant wife on September 7th on Instagram. The actor and singer captioned the photo, "My greatest gift has been you. You changed my life and now we are beautifully linked forever to raise a little us. I pray our son has your glow Your heart, Your mind, and your spirit. I will protect you and our son with everything I have." The two told PEOPLE in a statement, "As first time parents, everything about this experience has been a brand-new challenge." The couple went public back in 2019 and solidified their relationship when Rotimi proposed in December 2020.
After revealing her baby bump at the 2021 BET Awards, rapper Cardi B welcomed her second child with husband and fellow rapper Offset on September 4th. Cardi shared a photo on Instagram holding the newborn wrapped in a blue blanket, simply confirming the delivery of their baby boy. Though they have not yet released their son's name, fans are speculating they will continue the "K" name tradition. The couple shares a daughter, Kulture Kiari Cephus, and three out of Offset's four children's names starts with "K," so the fans may be on to something.
Supermodel Ashley Graham has confirmed that she and husband Justin Ervin are expecting their second child. She made the announcement on July 13th by sharing a photo captured by her husband, who is a film director and cinematographer. She captioned the post, "the past year has been full of tiny surprises, big griefs, familiar beginnings and new stories. I'm just beginning to process and celebrate what this next chapter means for us." The couple's first child, Isaac Menelik Giovanni, was born in 2020.
YouTuber Nabela Noor and husband Seth Martin will welcome their miracle baby in spring of 2022. Nabela had a miscarriage this past June, just one week after sharing the news with family and friends. After an exclusive with PEOPLE, the couple shared intimate photos on Instagram to announce their rainbow baby.
Pregnancy and birth announcements never fail to put a smile on people's face. We wish all new and expectant parents a joyous experience.