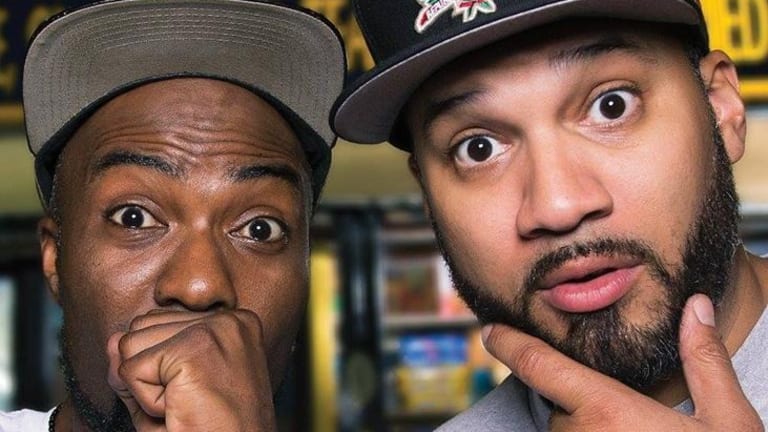 The 'Desus & Mero Do NYC Tour' Is Coming to Your Borough
You loved them on Complex.com. You loved them on MTV2.
You love them on VICELAND. And now you can love them in your borough. Bronx-bred comedic duo Desus & Mero are taking their show ~~on the road~~ on the subway and will be touring New York City.
Comedians and TV hosts Desus Nice and The Kid Mero announced yesterday that the "DESUS & MERO DO NYC TOUR" will hit all five boroughs April 8-15. The tour will have five live shows in the Bronx, Manhattan, Brooklyn, Queens, and Staten Island, with exclusive merchandise and special guests in each borough. Tickets are on sale today, Feb. 6th.
"Yerrrrrr get your Timberlands ready, the bodega boys' first-ever tour of the greatest city in the world, and my first time ever in Staten Island! (Really!)" said Desus Nice, while explaining that most New Yorkers who don't live in Staten Island rarely go to the borough, in a press release.
"Wow, my pals, I struggled mightily to hit every boro (sic) in my graffiti days, but due to cops and beef, I was unable to," explained The Kid Mero in a press release. "Now I get to live my dream of going all-city while getting paid and having a ridiculous rider!!! Can't wait to run around NYC bringing joy and mirth to the hive!!"
If you won't be in New York City in April, Desus & Mero will be doing live shows in Providence, Baltimore, Boston, Detroit, Chicago, Atlanta, and Seattle over the next few months. For additional information and to purchase tickets to the "DESUS & MERO DO NYC TOUR," click on DesusandMeroNYC.com, and for their other live shows, click on BodegaSushi.com.
​
​