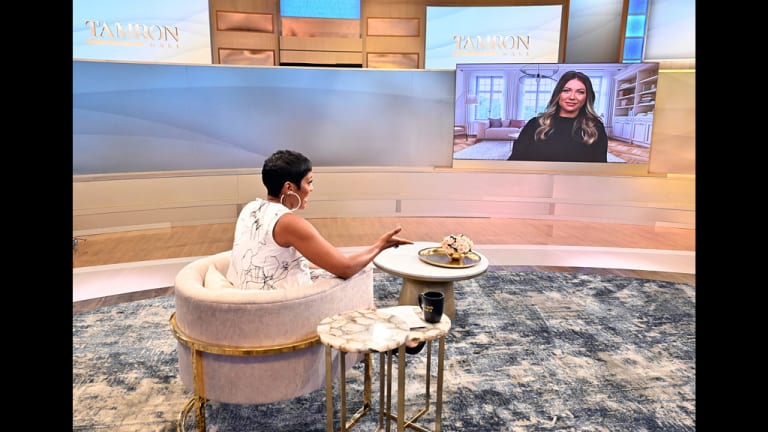 Tamron Hall Interviews Stassi Schroeder About Past Racist Actions [VIDEOS]
Schroeder says she's learned her lesson for reporting Faith Stowers, a Black woman, for a crime she never committed.
Today, Tamron Hall spoke with former Vanderpump Rules star Stassi Schroeder about her past racist actions and the repercussions, in her first interview since Bravo fired her.
Last spring, former Vanderpump cast member Faith Stowers, a Black woman, revealed that Schroeder and her then-fellow cast member Kristen Doute had falsely and repeatedly reported Stowers to the police for a robbery she had nothing to do with in 2018. The only obvious similarity between Stowers and the suspect, who was accused of drugging men at Los Angeles nightclubs and robbed them, was that they're both Black. Schroeder actually bragged about making the accusations on the B---- Bible podcast. Prompted by fan outrage that coincided with worldwide protests against systemic racism and police brutality, Bravo fired Schroeder and Doute a week after Stowers went public with the ordeal. As a result of the firing (and, hopefully, her racist behavior), sponsors no longer wanted to work with Schroeder and pulled their endorsements. In addition, her popular podcast Straight Up with Stassi was removed from all platforms.
Stowers, who remains the only Black person to have had a recurring role on the once-entertaining Bravo show, didn't know about Schroeder and Doute's accusations until she was being interviewed for an MTV series and was repeatedly asked whether she had ever drugged someone, stolen anything, or had warrants for her arrest.
"That's when I was like 'Something's not right, I'm getting asked this too much,'" Stowers told Insider in June. "Someone actually sent me the B---- Bible podcast. [...] I listened to it, and I was mortified. My family heard it, and they were mortified."
The 31-year-old mother of one also told Insider that she was "completely destroyed" after the incident and sought "professional help."
This incident, sadly, isn't the only time Schroeder proved she was completely oblivious to the systemic racism and discrimination Black people face on a daily basis, even if she was aware of her white privilege. When discussing the hashtag #OscarsSoWhite in 2017 on her now-deleted podcast, she said, "I'm like, really sick of everyone making everything about race. … I'm kind of over it," before adding that she's the "one person whose not allowed to say that, because I'm a white, privileged, blonde 28-year old."
The 31-year-old soon-to-be mother continued, "Everyone giving their impassioned speeches about race and all of that stuff, I'm like, 'Why is it always just about African Americans?' […] And whenever they get upset everyone has to go above and beyond to then make them happy. And I hate saying the word 'them' because I'm not … not everybody's the same. I mean the ones that are out there bitching about things. Maybe you weren't nominated because you didn't do that great of a job in your movie. Like it's not about race. It's literally like not about what you look like at all. It's like your acting ability, so like, what the actual f—k."
Schroeder has been silent since the news of the firing broke more than three months ago, but she told Tamron that she took the time to educate herself about racial discrimination, hiring a "teacher" to give her greater understanding about the issues surrounding the incident. It also seems Schroeder studied really well with a publicist to give the perfect "I learned and grew from my racist antics" spin. The interview is reminiscent of Schroeder groveling at the foot of Lisa Vanderpump's throne in order to return to Vanderpump Rules in 2016, after leaving the series in season three. The former Queen Bees competitor is smart enough to know when not to put her foot in her mouth. It's worth noting, though, that Schroeder says she doesn't view herself as a victim of cancel culture.
When Tamron asked Schroeder why she decided to finally speak out, Schroeder said:
"Honestly, now because I needed time to process my feelings. I needed time to process what happened. I feel like one of the most frustrating parts when this all went down was that people expected me to just understand everything immediately and things like that take time. And I felt like it would be better for me to get a greater understanding of everything and the issues before I opened my mouth again."
When asked why she chooses not to view herself as a victim of cancel culture, Schroeder said:
"I'm someone who messed up quite a few times. I am the reason why I'm in this situation. I think a lot of people wanted me to focus on cancel culture and whether I was a victim or not, and it's just not how I feel at all."
In response to people labeling her a racist, Schroeder said:
"That has been the hardest part of all of this. That is absolutely the hardest part. Just going out to a restaurant or going to the grocery store and wondering if that's what people think. Throughout this whole thing, I've recognized I've never felt that I was a racist, I don't have hate in my heart but I've recognized that I wasn't anti-racist. I wasn't. And that's something I've been learning throughout all of this."
When Tamron asked if she truly understood how the potential ramifications of her actions could have negatively impacted Stowers's life, Schroeder said:
"I do absolutely understand. I've spent the last three months working with a teacher and learning about everything. And there was so much that I didn't know. I didn't understand that just because something wasn't about race for me, doesn't mean it's not about race for the other person because I'm bringing my experience as a white privileged woman to this situation and she's bringing her experience as a Black woman into this situation. And because it's about race for her, it is about race. And that's something that I've realized."
Tamron also asked Schroeder about her misinformed #OscarsSoWhite rant, she responded:
"I've been wanting to talk about this podcast more because going through these past few months and working with a teacher and learning about Black history and just the obstacles that Black people face every single day, I look back on the podcast and I am so embarrassed that I even had those thoughts much less put it out there. I was a Karen who basically said 'What about All Lives Matter?' I have been wanting to talk about this podcast because I now know how to speak for Black Lives Matter ... to be able to defend it when people are questioning it."
Schroeder also addressed her infamous "Nazi Chic" photo caption that was shared on her personal social media account in 2018, and has since been deleted, saying:
"I am so embarrassed. I've been embarrassed about that for three years. It was a poor joke amongst me and my friends and it was so wrong. And again I have spent my life as a privileged person and it is my fault, I have to say this, that I have not educated myself before. It is absolutely my fault that I didn't know better, but the issue is I did not know better."
Later in the interview, Schroeder explained how she plans to move forward and how her perspective has changed, saying:
"I just want to be a better person. I'm pregnant and I want my daughter to be proud of me. And I want to be a part of the solution, I've been a part of the problem for years now. And I've recognized that. That's why I say I don't feel like I'm a victim of cancel culture. People want me to be mad at it and I'm not, I needed it."
When Tamron asked how she plans to explain these actions to her future daughter, Schroeder said:
"And that's something that I ask my coach about all of the time, how best to talk to a child about this. Because like I mentioned earlier, when I was learning about everything, I think the weeks that we focused on Black history a light went off in my head. Just learning about everything for a couple weeks straight, all at once, I had never thought about the oppression that Black people face in that way. There was just so much that I didn't understand, and again, it's my fault that I didn't educate myself."
To close the interview, Tamron asked Schroeder if she'd ever return to Vanderpump Rules, and Schroeder responded:
"No, that ship has sailed. And my life feels very different right now, I think when something like this happens and you get pregnant on top of it, you take inventory of your life and you think what is going to be the best for my future child and I think getting drunk and starting conflict and misbehaving on a reality show isn't my journey anymore."
Maybe one day Schroeder will prove with her actions, rather than words, that she's not a racist.