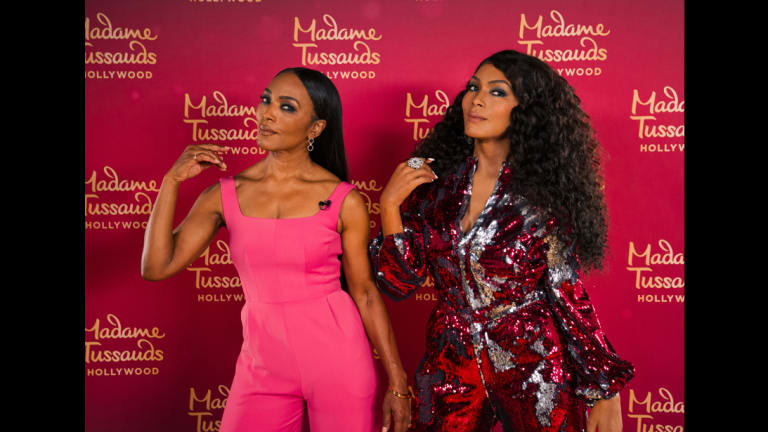 Take a Gander at Angela Bassett's Madame Tussauds Hollywood Wax Figure
Madame Tussauds Hollywood has immortalized iconic actor Angela Bassett with a life-size wax figure.
"It's like looking in a mirror! Dreams really do come true and I am blown away by the detail and execution by the Madame Tussauds artists. My figure is truly remarkable, and I am extremely honored to be perfectly featured at Madame Tussauds Los Angeles," said Angela Bassett as she viewed her wax figure for the first time at Madame Tussauds Hollywood on September 17th.
Madame Tussauds Hollywood will officially reveal the award-winning actor's wax figure on the Late Late Show with James Cordon tonight.
Known for giving stellar performances as strong women like Tina Turner and female characters like Queen Ramona in Black Panther, Bassett was likely an easy choice for Madame Tussauds to immortalize with a wax figure. She has won a SAG Award, a Golden Globe, three Black Reel Awards, several NAACP Image Awards, and the Black Girls Rock! Icon Award. In addition, she has been nominated for an Academy Award and seven Primetime Emmy Awards.
"We are very excited to reveal Angela's first Madame Tussauds wax figure in Los Angeles," said Madame Tussauds Los Angeles Marketing Manager Helen Larimore, in a release. "She is an inspiration of our time and we are thrilled to have her accurately personified in our interactive museum."
It took many hours to create Bassett's wax figure. First, the creative team modeled her face and hands in clay and then molded it in wax. Each strand of her hair, which is always on point in real life, was inserted manually, and it took about five weeks to give the figure a full head of hair. The Madame Tussauds colorists replicated Bassett's complexion and gave the figure a lifelike skin tone by applying layer upon layer of oil paint.
The figure's entire outfit of a Greta Constantine sequin jumpsuit and Casadei shoes was a donation styled by Kat Tunwell.
Madame Tussauds Hollywood, which celebrated Jennifer Hudson and Tiffany Haddish with wax figures earlier this week, allows fans and visitors to get up close and personal with their favorite celebrities. For more than 200 years, Madame Tussauds has been creating wax figures of celebs and heroes that are as accurate as a photograph. Hopefully, Madame Tussauds brings Bassett to its other locations across the country.