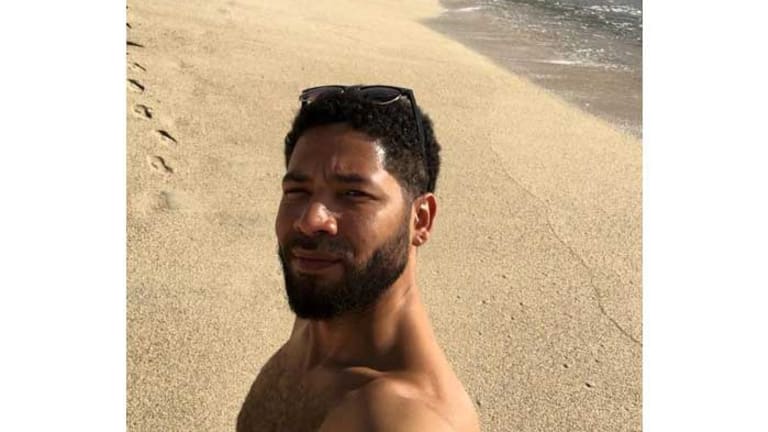 State's Attorney Drops All Charges Against Jussie Smollett
Jussie Smollett's record has been wiped clean following his March indictment on 16 counts of disorderly conduct.
The Cook County State's Attorney has dropped all charges against Jussie Smollett, whose lawyers confirmed in a statement today that his "record has been wiped clean of the filing of this tragic complaint against him," reports the New York Daily News.
The ordeal began in late January when the Empire actor claimed that he was the victim of a hate-filled attack. Smollett claimed the attackers used homophobic and racist language, tied a noose around his neck, poured an unknown substance on him, and beat him.
In February, Chicago Police arrested him after a three-week investigation in which they claimed to have found he orchestrated the attack and paid two brothers to assault him because he was unhappy with his Empire salary. A grand jury indicted him on 16 counts of disorderly conduct in March.
"Jussie was attacked by two people he was unable to identify on January 29," reads the statement from lawyers Tina Glandian and Patricia Brown Holmes. "He was a victim who was vilified and made to appear as a perpetrator as a result of false and inappropriate remarks made to the public causing an inappropriate rush to judgement."
The Cook County State's Attorney's Office also released a statement after the charges were dropped. "After reviewing all of the facts and circumstances of the case, including Mr. Smollett's volunteer service in the community and agreement to forfeit his bond to the City of Chicago, we believe this outcome is a just disposition and appropriate resolution to this case," the statement reads.
After his arrest, Smollett's Empire character Jamal Lyon was written out of the final two episodes of the series' fifth season. His involvement in the show remains unclear, as Fox said the network and the studio "have no comment" at this time.
His family remained supportive and released their own statement. "The painful incidents we've witnessed him endure over the past 7 weeks have been heartbreaking and unjust to say the least," reads a statement. "While many were quick to rush to judgement before hearing the actual truth, we are grateful that the truth about Jussie has come to light. We look forward to bringing the real perpetrators to justice. We thank God and our village for standing by us during this trying time."