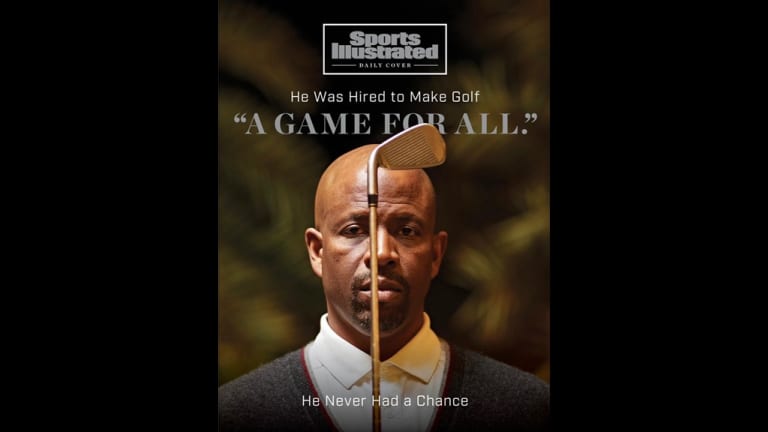 'Sports Illustrated': What Golf's Race Problem Looks Like From the Inside
Wendell Haskins spoke with SI about the PGA hiring him to make golf more diverse, but then undermined his efforts.
Courtesy ofSports Illustrated
Barack Obama leaned over and gently fastened the blue ribbon around the 92-year-old man's neck. This was November 2014, and Charlie Sifford, who was once denied the opportunity to compete on the tour of the Professional Golfers' Association because of his skin color, was at the White House.
Alongside the family members and dignitaries in the East Room that day was a man named Wendell J. Haskins. This was the moment Haskins had been intent on making happen since he was hired earlier that year as the PGA of America's new senior director of diversity. It was not easy: He had worked a connection with Alonzo Mourning, who he knew occasionally golfed with the president, asking the former NBA All-Star to plant the seed during a round with Obama. Haskins then spent months collecting dozens letters of support for Sifford from the likes of Arnold Palmer; Jim Brown; Samuel L. Jackson; South Carolina Rep. James E. Clyburn and 63 other bipartisan members of Congress; and Tiger Woods, who wrote that Sifford "helped pave the way for players like me."
Now, the nation's first Black president was awarding the Jackie Robinson of golf—the first Black man to compete on the PGA Tour—the Presidential Medal of Freedom. Robinson's widow, Rachel, had been among the letter writers. Sifford, who once said he rarely smiled as a result of the discrimination he'd endured through his life, beamed.
But there was just one problem: None of the PGA of America's senior leaders had come to Washington to celebrate Sifford. When it came to bringing racial awareness to golf—and reckoning with the sport's racist and exclusionary history—Haskins had found it easier to get the ear of the President of the United States than the people he worked with at PGA headquarters.
Continue reading ...
RELATED: Former Exec Wendell J. Haskins Says the PGA is Inactive in Promoting Diversity