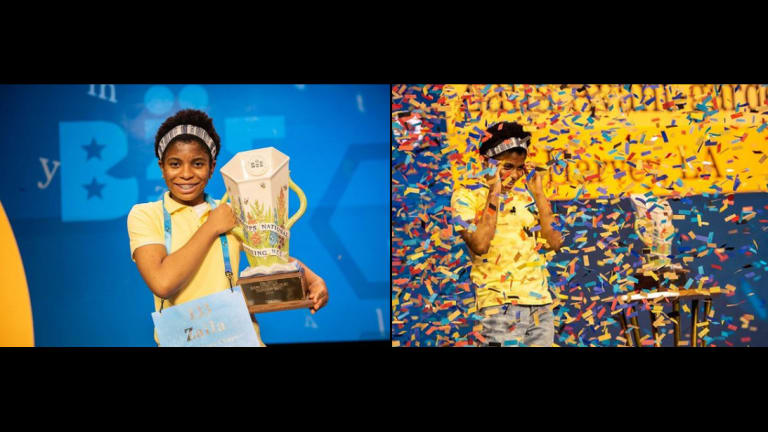 Spelling Isn't Bee Champion Zaila Avant-Garde's Only Skill
Something tells us that Scripps National Spelling Bee champion Zaila Avant-garde never loses a game of H-O-R-S-E.
"Now I get a nice trophy, which is the best part of any win," said 14-year-old Zaila Avant-garde on stage after winning the 2021 Scripps National Spelling Bee on Thursday, July 8th, at the ESPN Wide World of Sports Complex at Walt Disney World Resort in Florida. Her statement suggests that she has won other trophies in the past, and while, one doesn't become the first Black-American national spelling bee champion without a few wins under her belt, Avant-garde also has a particular set of skills on the court too.
Avant-garde, who is from New Orleans, is the first Black champion in the Scripps National Spelling Bee's 96-year history. She ended the competition by successfully spelling the word "murraya." (I'll save you a Google search and tell you the definition: "a genus of flowering plants in the citrus family, Rutaceae.") Avant-garde was up against 12-year-old Chaitra Thummala in the final round of the competition. They each spelled two words correctly, but Thummala got the compound word "neroli oil" wrong, giving Avant-garde the opportunity to claim the title. The girls are trained by the same coach, which might explain why they gave each other high-fives throughout the round and maintained a light atmosphere through the tense competition. Avant-garde secured the title and the $50,000 prize.
Avant-garde certainly has prowess with letters and etymology, but she also skills with a basketball. CBS This Morning reports that she is a basketball prodigy and is one of the top eighth grade prospects in the sport in the country. Not only that, but Avant-garde also holds three Guinness World Records for her basketball dribbling skill. In a clip the morning news program shared, Avant-garde is dribbling four basketballs while balancing on a hoverboard.
The teenager seems to have quite a bit of her life mapped out already. She reportedly wants to attend Harvard University, play in the WNBA, and possibly coach in the NBA. That's if she doesn't work for NASA.
But don't get it twisted, Avant-garde is a typical 14-year-old, as she spent the moments following her spelling bee win chasing her naughty little brother around the parking lot. She also has a bit of a sense of humor. When given "murraya" as her final word, she asked if it included the English word "Murray," "which could be the name of a comedian," alluding to Bill Murray.
When asked on CBS This Morning how it feels to be the first African American to win the Scripps National Spelling Bee, Avant-garde replied, "It felt really great to be the first African American champion because it's almost a hundred years of no African American. It's not too surprising or anything, but it's still kind of sad and stuff for there not to be any African-American winners. But it felt good."