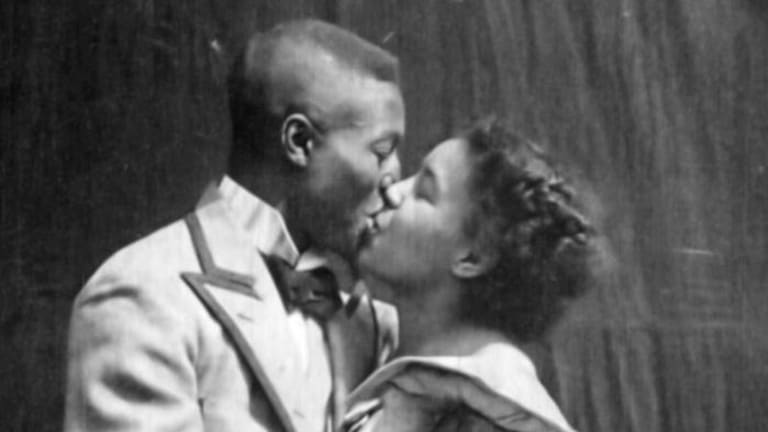 'Something Good — Negro Kiss': Earliest Black Movie Kiss Rescued From Obscurity
The recently discovered film Something Good — Negro Kiss was inducted into the National Film Registry for 2018.
In 1896, Thomas Edison released The Kiss, an 18-second film in which the first-ever on-screen kiss occurred. It was one of the first films ever shown publicly, and enticed audiences to the new entertainment of movies with its titillating subject manner, reports Brigit Katz for Smithsonian.com. Many filmmakers imitated The Kiss, including William Selig, whose Chicago studio Selig Polyscope Co. produced the earliest cinematic depiction of a Black couple kissing on-screen in 1898.
The 29-second film is titled Something Good — Negro Kiss and stars Saint Suttle and Gertie Brown. Their costumes are consistent with those worn by actors in racist minstrel shows. Initially, the actors in the minstrels were white people wearing Blackface, but many Black performers entered the genre following the Civil War in order to add more accurate depictions of Black Americans to the racist conventions of minstrels, according to Katz. What's surprising about Something Good — Negro Kiss is that it doesn't feature any racist caricatures, like other films of its time.
Reports Katz:
"The snippet of black-and-white, silent footage begins with a kiss. As they break apart, the young couple laughs joyfully, their hands still clasped together. They kiss again. Then again. Then a fourth time in a full-on smooch. Though it's less than 30 seconds, this clip may hold a very special place in movie history. It is, experts believe, the earliest known cinematic depiction of intimacy between African-Americans."
Something Good — Negro Kiss was discovered by Dino Everett, an archivist at the University of Southern California. He brought it to Allyson Nadia Field, an associate professor at the University of Chicago's Department of Cinema and Media Studies, who specializes in silent and contemporary Black-American film. Field traced the Something Good — Negro Kiss to Selig's studio.
Recently, the Library of Congress inducted Something Good — Negro Kiss, along with 24 other films including Eve's Bayou (1997) and Hair Piece: A Film for Nappy-Headed People (1984), into the National Film Registry.
Field told the Library of Congress that the film is "a moving and powerful image of genuine affection."