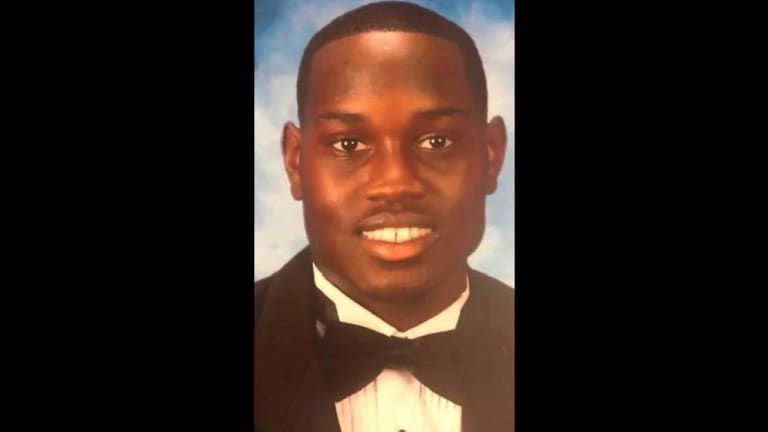 #RunWithMaud to Honor and Demand Justice for Ahmaud Arbery
Lace up your sneakers to go for a run or walk to show support and demand justice for Ahmaud Arbery.
Supporters of Ahmaud Arbery have found a unique way during social distancing to honor the Black man who was fatally shot while jogging in Georgia in February. They're asking demonstrators to mourn the 25-year-old by lacing up their kicks and posting #IRunWithMaud on social media.
"With Covid-19 of course, we can't have a demonstration where we all come together," Jason Vaughn, Arbery's high school football coach, said to CNN. "Any runner can identify with Maud, a guy who may have had a bad day, but he can go out there and hit the pavement and go jog."
Arbery was jogging in a neighborhood near Brunswick, GA, on February 23rd when two armed white men, former police officer Gregory McMichael and his son Travis, chased down Arbery, reports CNN. Arbery was shot when he struggled with Travis over the latter's shotgun, according to a Glynn County Police report. Gregory claimed to police that he thought Arbery looked like a suspect in a series of break-ins in the neighborhood.
Vaughn and other organizers, including the Grassroots Law Project, are asking supporters of Arbery to honor him by going for a run of 2.23 miles, which represents the date he was killed, beginning on Friday, May 8th, which would've been Arbery's 26th birthday. Mourners are asked to document their run or walk on social media using the hashtags #RunWithMaud or #IRunWithMaud.
Vaughn told CNN he last saw Arbery when they were both out for a run. He said he wanted to catch up to Arbery and joke around with him, but Arbery was running too fast, pushing himself hard, reports CNN.
Those who want to join the #RunWithMaud demonstration can sign up at RunWithMaud.com. They're also encouraged to sign the petition at the site to demand that Gregory and Travis McMichael be arrested and held pending the grand jury decision, and the FBI bring hate crime charges against the two men and hold them accountable for their racially-motivated violence.