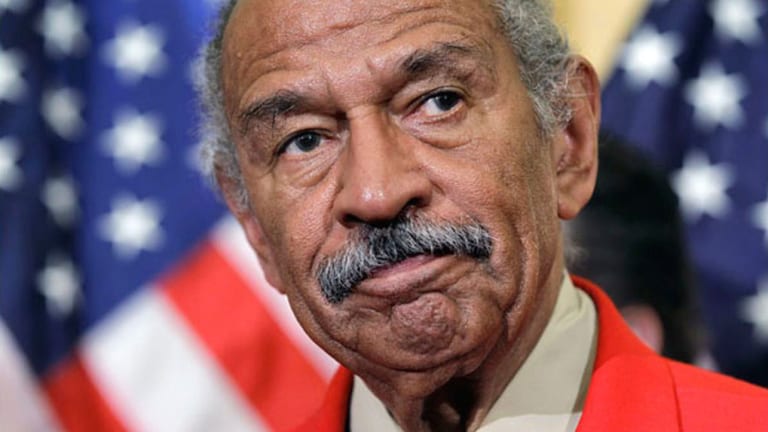 Rep. John Conyers Jr. Dies at Age 90
John Conyers Jr. is the longest-serving Black lawmaker in Congress to-date.
Rep. John Conyers Jr., who represented Michigan in Congress from 1965 to 2017, has died at age 90 in Detroit.
Conyers served for more than five decades after being elected in 1964 and was the longest-serving Black lawmaker in congressional history, routinely winning reelection with 80 percent of his district's votes. He co-founded the Congressional Black Caucus, and was a champion of civil rights.
The Democrat was a staunch proponent of reparations for Black Americans. Since 1989, he would introduce a bill at the beginning of each congressional session that advocated for a "congressional study of slavery and its lingering effects as well as recommendations for 'appropriate remedies,' " reports NPR.org.
Conyers is also, in part, the reason Dr. Martin Luther King Jr. was honored with a federal holiday. He first proposed the national holiday four days after King was assassinated in 1968. It took 15 years for the holiday to be signed into law.
Rosa Parks worked in his office from 1965 to 1988.
However, his career wasn't without scandal. The Detroit native resigned amid allegations of sexual misconduct in 2017. Several women alleged that Conyers had verbally abused them, touched them inappropriately, and groped them over decades. Conyers' office paid one former staffer a confidential settlement of $27,000 after she alleged that she was fired for refusing the congressman's advances, reports NPR.org. Conyers denied the allegations.
Conyers is survived by his wife Monica, a brother, and two sons.
"Congressman Conyers was a devoted father and husband and his world revolved around securing justice against racial and economic discrimination," his family said in a statement.