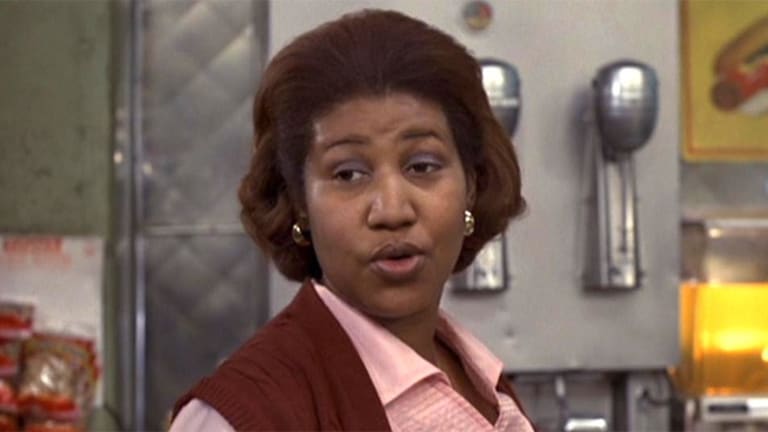 Remembering Aretha Franklin the Actor
There are some who would argue that Aretha Franklin's time on the screen is just as memorable as her time on stage.
Aretha Franklin will forever be remembered for blending her gospel-tinged singing with her bluesy and expansive delivery on hits like "R.E.S.P.E.C.T.," "(You Make Me Feel Like) A Natural Woman," and "Think." But there are some who would argue that her time on the screen, however brief, is just as memorable as her time on stage.
The singer, who certainly earned the title of Queen of Soul, passed away Thursday, Aug. 16, 2018 at 9:50 a.m., according to her family's statement that was obtained by CNN. The cause of death was "advanced pancreatic cancer of the neuroendocrine type." She was born in Memphis on March 25, 1942 and began her singing career at age 14. After signing with Atlantic Records in the 1960s, Franklin racked up 10 Top Ten hits over a year-and-a-half span from 1967 to 1968. Her acting debut would come in 1972.
​
​
Franklin made her acting debut in the TV series Room 222, which told the story of a Black teacher, Pete Dixon, as he attempted to teach his students tolerance. In 1972, the show was in its fourth season when Franklin stepped on set to play Inez Jackson. The episode is titled "Where Is It Written?" and IMDb summarizes the episode plot: "Liz McIntyre (Denise Nicholas) has two students needing guidance. Craig feels unable to live up to his family's academic achievements and become a minister while Judy acts out in anger over her home life. A chance meeting cutting class helps both of them."
​
​
Franklin's most memorable acting role is diner waitress Mrs. Murphy in 1980's The Blues Brothers and the 1998 sequel, The Blues Brothers 2000. Although she was exercising her acting muscle, Franklin's most iconic scene in the film is belting out "Think," which debuted on her 1968 album Aretha Now. The appearance reinvigorated Franklin's career which was going through a slump as fans turned away from Soul in favor of Disco, and Atlantic Records had allowed her contract to expire.
Her appearance in The Blues Brothers almost didn't happen, though. Universal Pictures actually wanted newer acts like Rose Royce, reports Vanity Fair. But star Dan Akroyd and the rest of the crew refused to budge and eventually won the dispute. The studio ended up lobbying for Franklin to get an Oscar nod for her performance. Although that didn't happen, the film did introduce her to new fans and reminded former fans of her genius.
​
​
Franklin reprised her Mrs. Murphy role for The Blues Brothers 2000. This time, she stole a scene by demanding "R.E.S.P.E.C.T."
Funeral arrangements for Aretha Franklin will be released in the coming days.