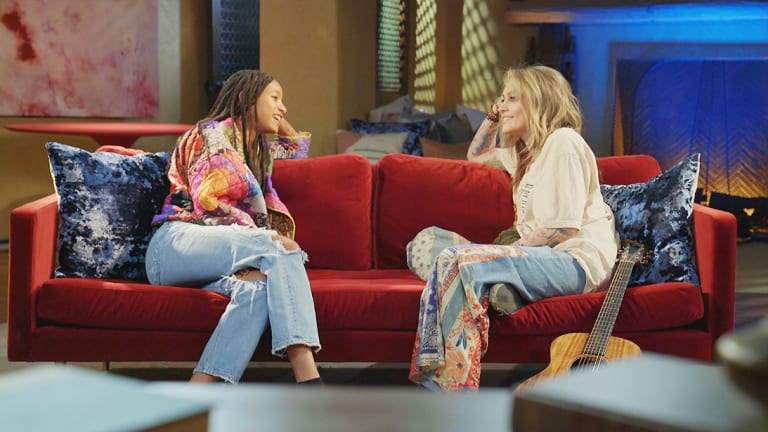 Heard on the Street: Paris Jackson Reflects on Life After Dad's Death
Paris Jackson and Willow Smith discussed their shared struggles with mental health, betrayal, and more during Willow's Red Table Talk Takeover.
"I don't know. It kind of just happened. I was so young that it wasn't a conscious of, 'I'm gonna keep going' and, you know, 'Yeah!' I was just going through the motions and didn't really understand what was happening, and so I just went with what I was told to do, and, OK, I'm living here now, and, OK, I'm going to school now, and I'm not homeschooled anymore, and I'll just do what I'm told. 'Cause I didn't really have much guidance …"
"I take the positive things that I learned from him, the good morals that I learned, and try and use them every day. Humility, compassion, tolerance, just being kind to other people even if it's someone who did you wrong, to pray for them and be kind to them. Be kind to yourself. That's just the very standard way that I keep that memory alive and do what I can to make him proud."
— Paris Jackson reflected on life after her father Michael Jackson's death on June 25, 2009, during Willow Smith's first-ever takeover of popular Facebook Watch series Red Table Talk. The two longtime friends sat down on the red couch to have a frank discussion about their shared struggles with mental health, sexuality, betrayal, and self-harm. Paris was only 11 years old when Michael died of a propofol overdose while under the care of former cardiologist Conrad Murray. During the episode, Paris also revealed that she has severe PTSD that was caused by being stalked by paparazzi, and, as a result, she has auditory hallucinations that include camera clicks, trash bags rustling, and severe paranoia. Paris also said she makes visitors to her home sign a nondisclosure agreement because she's paranoid about information getting out that would not only affect her reputation, but also that of her relatives. Willow's Red Table Talk Takeover also included Paris performing "Freckles," which she calls her "first and only happy song." See her performance and the entire "Paris Jackson x Willow Smith One-on-One" episode here.