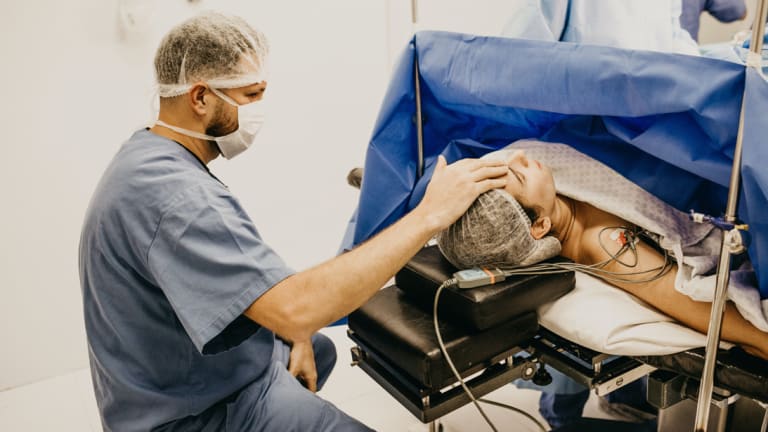 Nurses Catch Anesthesiologist Assaulting Cesarean Patient on Camera
Every sedated patient's worst nightmare came true for at least one woman after nurses caught an anesthesiologist assaulting her.
File this under despicable: Nurses caught an anesthesiologist allegedly assaulting a woman while she was sedated and underwent a cesarean at a Brazilian hospital. Although the doctor has been arrested on July 10, officials suspect there could be more victims.
Nurses at Vilar dos Teles Women's Hospital in São João Meriti, which is a municipality outside of Rio de Janeiro, reportedly suspected anesthesiologist Giovanni Quintella Bezerra was doing something untoward to his patients during c-sections for weeks. So they hid a camera in an operating room to learn what Quintella Bezerra was doing on the other side of the curtain during the procedure. Unfortunately, there was certainly cause for concern.
The 32-year-old anesthesiologist was allegedly captured on cell phone video inserting his p–s into the mouth of a sedated patient while she underwent the procedure on July 10. Quintella Bezerra allegedly abused the unconscious woman mere feet from the rest of the operating team, whose view was blocked by a surgery curtain. The assault reportedly lasted 10 minutes, and he is seen wiping out his victim's mouth with gauze afterwards, presumably to hide his crime. The hospital staff turned over the recovered piece of gauze and the video evidence to the police.
Quintella Bezerra has been charged with rape of a vulnerable person and faces eight to 15 years in a Brazilian prison if convicted, according to a report. Since he has worked in at least 10 hospitals, there's fear that the July 10 assault isn't an isolated incident and there are other victims.
His colleagues grew suspicious of him because of how much sedative he gave his pregnant patients and he had a tendency to separate himself from the rest of the surgical team behind the curtain. They say the patients were too sedated to hold their babies after birth.
A witness to the alleged assault on Sunday said he noticed the anesthesiologist positioned himself near the patient's head and he was slowly moving back and forth. In addition, the observer says the doctor's arm was allegedly positioned in a way that would allow him to support the patient's head near his pelvic area.
On the day of his arrest, Quintella Bezerra participated in two other surgeries in operating rooms in which is wasn't feasible for the nurses to hide a cell phone. The surgical room for the c-section was changed at the last minute and the medical team was able to secrete the phone and capture the incriminating video.
The hospital has also opened an investigation into Quintella Bezerra, and the Regional Council of Medicine of the State of Rio de Janeiro is seeking to expel him. The Society of Anesthesiology of the State of Rio de Janeiro rejected his conduct: "This type of behavior is completely absurd and we trust that the competent authorities will investigate what happened and rigorously punish the doctor, if the crime is proven."