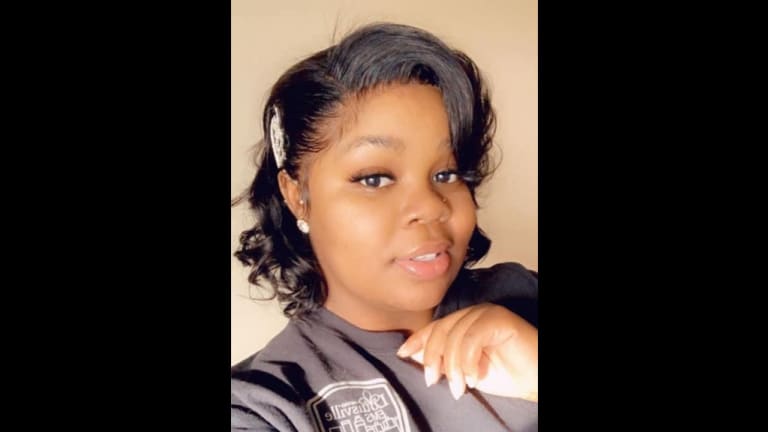 No Louisville Cop Has Been Indicted for Killing Breonna Taylor
The grand jury did vote to indict one person, however, for endangering Breonna Taylor's neighbors.
A grand jury in Jefferson County, Ky., did not indict any cops for fatally shooting Breonna Taylor in her own home on March 13th. It did, however, charge one person, former Louisville detective Brett Hankison, with three counts of wanton endangerment in the first degree.
Attorney General Daniel Cameron said the state's investigation determined that the officers, Sgt. Jonathan Mattingly and Det. Myles Cosgrove, were justified in using force because Kenneth Walker, Taylor's boyfriend, fired upon them first. Cameron asked the FBI crime lab to investigate who fired the fatal shot, after the state's investigation failed to do so, reports The Washington Post. The FBI crime lab determined Cosgrove fired the fatal shot. Cameron also said the investigation determined the search warrant was not a no-knock warrant, and one of Taylor's neighbors said they heard the police announce themselves, but no other neighbors could confirm that.
Hankison has been indicted on three counts of first-degree wanton endangerment for firing recklessly and without due regard for life from outside Taylor's apartment, which endangered three people in the apartment next to Taylor's. Hankison's bail has been set at $15,000. The maximum penalty for wanton endangerment is five years.
Rev. Al Sharpton said the indictment is "grossly insufficient," reports TMZ. Ben Crump, the attorney for Taylor's family, called the grand jury's decision "outrageous and offensive," reports WSB-TV Atlanta.
So six months after the incident, not one person is culpable for the killing of Taylor. Earlier this month, the city of Louisville agreed to pay Taylor's family $12 million and institute reforms that will hopefully prevent another police-involved shooting death like Taylor's.