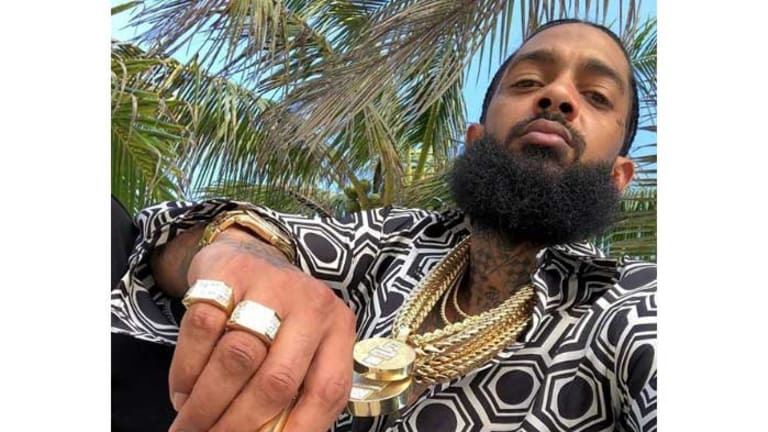 Nipsey Hussle's Friend Recalls Rapper's Last Moments
Nipsey Hussle's friend held him as the rapper fought for his life after being shot.
Written byExtra
As friends and family mourned Nipsey Hussle at a memorial service at Staples Center on Thursday, Extra spoke with his longtime friend and employee Herman "Cowboy" Douglas about the day the rapper died.
Douglas explained that he was at the Marathon Clothing store when a man shot Hussle and two others, killing Hussle.
Douglas was inside when the shooting happened, and ran out when he heard gunshots. "I ran over to Nip and held him," he said. "Nipsey fought the whole way. He was breathing the whole time, had a pulse. In and out of consciousness. He fought hard, I could just see it in his eyes. He was fighting, he was fighting the whole time. Up until he went to the hospital, he was still breathing and he was doing good."
Douglas continued, "He wasn't in a state that he could talk, but you could tell he was fighting ... I just sat there and prayed with him, praying, praying, praying. If it looked like he wanted to doze back, it was like, 'Wake up bro, wake up.'"
Douglas claims the shooter was a "local guy," and that he doesn't know of any beef between him and Hussle. "There was never no drama, never no argument, never no dispute, just a sneaky snake move. There was no controversy, they didn't have no beef. It was just a straight hater move."
Douglas shared what he will miss most about his friend. "I am going to miss his smile ... I'm going to miss his advice. He would give me books to read. There are so many things I will miss about him."
He added, "Nip is passing us the baton ... now it is about keeping the peace."