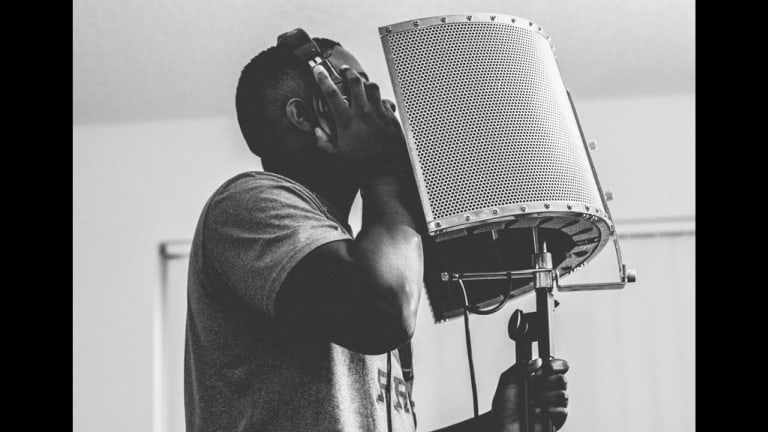 New Black-Owned Music Platform Puts Recording Artists in Charge of Their Careers
Trac music technology platform is upending the music industry to give independent artists the power.
There's not much Kanye West says or tweets nowadays that's worth paying attention to. However, his assessment of how the record industry preys on new and eager talent was spot-on. "We're going to move the entire music industry into the 21st Century," West tweeted in September. "We're going to transparently change every album deal[,] every publishing deal[,] every merch[andise] deal[, and] every touring deal."
Trac, a new and Black-owned music technology platform that just launched to the general public, is giving independent artists the power to share their talents with the world, without signing a contract with a record company. According to the press release, Trac "is challenging independent artists to sign themselves instead of signing a stringent record label contract that binds them into multi-year recoupment obligations and prohibits them from owning their masters."
Cardin Campbell, the CEO and founder of Trac Technologies, Inc., recognized the need to upend the music industry long before West tweeted. "I started Trac because I believe we need to re-imagine the entire music ecosystem," Campbell says in a press release. "I want to make things easier for independent artists who dream of a legitimate career in the music industry. It's due time that we flip the music industry right-side up."
So what does Trac actually offer? The platform will provide independent artists with unlimited music distribution and marketing services via their artist webpage — without taking a percentage of the revenue the artist generates. This will allow the artist to maintain creative control.
Trac will provide the artists the same services a major label would, but without the hand-holding or headaches for which record label executives are known. The services fall into three categories, marketing, financial, and analytics.
"Trac is the only platform that gives artists 100 [percent] of their streaming revenues and addresses the needs of today's independent artists," says Campbell in the release.
Specifically, Trac will cover independent artists in this way:
Music Distribution: Getting music on Spotify, Apple Music, Tik Tok, and all of the other music streaming services.
Artist Profiles: Low maintenance artist websites that are automatically built and maintained for artists, so they can focus on making music.
Fan Relationship Management: Tools that bring artists and fans closer together.
Automated Payouts: The ability to split song ownership with collaborators and automate payouts to everyone.
Timed Agreements: Artists can split ownership for a specific period of time.
Performance Insights: A historical view of all streams, money earned, and fan demographics.
Predictive Analytics: Predictions of what future streams and earnings will be, and provide optimization recommendations for how to improve.
The platform also recognizes that every artist might not be at the same place in their journey, and provides different service levels — Beginner Plan, Growth Plan, and Pro Plan — to address their needs.
Trac's motto is "Sign Yourself. Be Your Own Label." And the music platform that was founded in Los Angeles has already received site visits from artists in 74 countries, according to the release.
Campbell says in the release, "Just as Napster disrupted the music business at the turn of the century, it's time that we democratize the music business for recording artists, once and truly for all."
Full disclosure: Cardin Campbell and I went to grammar school together in the Bronx.