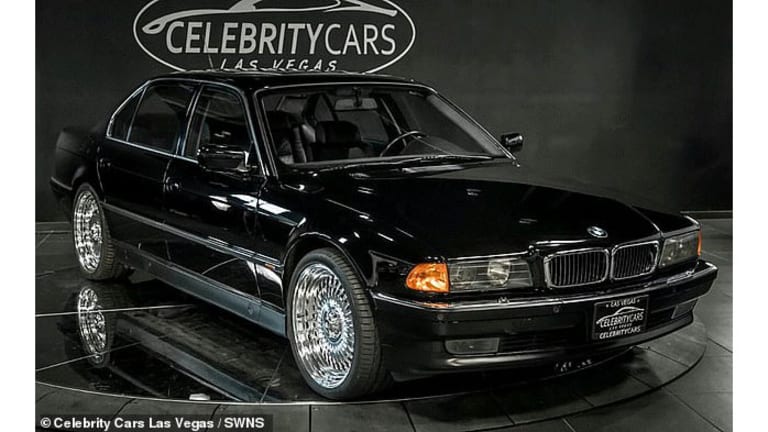 Morbid Alert: The BMW Sedan in Which Tupac Was Fatally Shot Is up for Auction
It takes a seriously morbid person to buy a piece of celebrity memorabilia like this.
The BMW 750Li in which Hip Hop legend Tupac Shakur was fatally shot in Las Vegas in 1996 is up for auction for $1.75 million.
The auction is being held in Sin City by a dealer, and has been "painstakingly restored," reports Daily Mail.
Suge Knight was the original leaser of the vehicle and was driving when a white Cadillac reportedly pulled alongside the passenger side of the vehicle where Tupac was sitting, as they left a boxing match at a casino. The assailant, who has remained unidentified to this day, fired bullets into the sedan, striking a 25-year-old Tupac in the chest, arm, and thigh with four .40-caliber rounds. The rapper died six days later in the hospital.
The new owner of the vehicle will receive documentation proving the car's history, including a certificate demonstrating that Knight's Death Row Records purchased it initially.
Following the murder, the Las Vegas police impounded the BMW and later sold it at auction. It has passed through several "collectors," and the most recent owner had it fully restored. Daily Mail reports, "It still boasts a black leather interior, the original 5.4-litre engine and a five-speed automatic gearbox — although it has 121,043 miles on the clock." In addition, a small indentation remains in one of the doors where a bullet may have ricocheted.
In 2018, the History Channel show Pawn Stars featured the vehicle, pricing it at $1.5 million.
Celebrity Cars Las Vegas, the entity now selling the vehicle, requires a $20,000refundable deposit for any interested buyers. It takes a seriously morbid person to buy a piece of celebrity memorabilia like the BMW in which Tupac Shakur was fatally wounded.