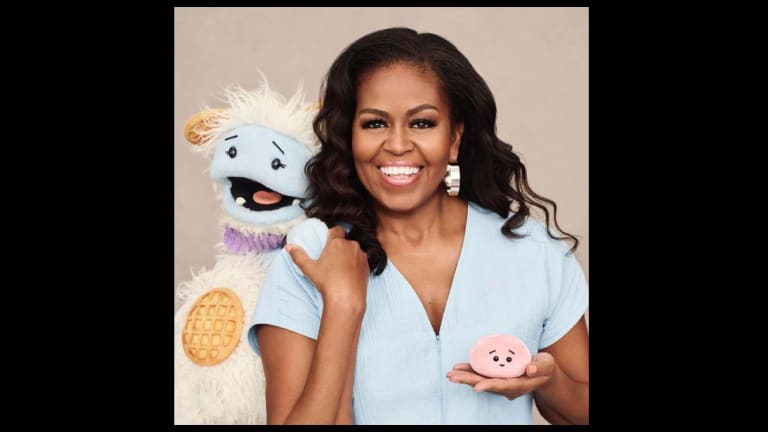 Michelle Obama Talks 'Waffles + Mochi' & Passion for Kids' Health [VIDEOS]
Michelle Obama spoke with Tamron Hall about exposing young people to new worlds and foods, her Netflix series Waffles + Mochi, and "Pass the Love" initiative.
Michelle Obama sat down with Tamron Hall today, March 23, to discuss her new Netflix show Waffles + Mochi and her commitment to children's health and fitness through a new initiative with "The Partnership for a Healthier America," called "Pass the Love," that aims to feed one million families affected by the pandemic.
In the Netflix series that launched on March 16, "Waffles and Mochi embark on a global food expedition in order to become chefs. With the help of Mrs. Obama, Waffles and Mochi travel the world, learning all they can about different foods and cultures." The former First Lady and best-selling author also shared how her childhood growing up in Chicago inspired her to be a part of Waffle + Mochi and why it's important to show young people worlds outside of the block they were raised. Along with discussing how she's continuing to help children get healthier and more active, Obama also offered Hall some personal advice on how Hall can get her almost 2-year-old son, Moses, to eat his vegetables.
Michelle Obama on her decision to join Waffles + Mochi:
"Well it was about a year ago that the co-creators, Erika Thormahlen and Jeremy Konner, came to me. Jeremy is a co-creator for Drunk History, so he brought the humor and Erika is an early childhood educator, she brought the knowledge and the understanding about how you need to talk to kids. Jeremy was a parent of a young child just like you, and they both came and said, 'We want programming that not just kids will love but parents will love.' And I thought, this is it. This is the kind ... it brought the humor, the funny, the color, the energy, Waffles and Mochi are just irresistible. So, I kind of had a hint that this was gonna be a hit because as a parent, I would have wanted to have this when my kids were younger, I would have wanted to have a Waffles + Mochi series, so it was easy to say yes to this one."
Michelle Obama's advice to Tamron Hall about how to get her son Moses to eat vegetables:
"Well, there are two schools of thought and mine was that if I asked you to do something, you do it, there's that, right? Because it's not just about the vegetables, but it's also in my view about teaching kids to listen — that when Mom tells you that something is important, you know, you start early with it, so there's that. But then not all kids can understand that rationale. So then, you try different types of vegetables, that's what we did. It was just sort of pick one, right? You don't have to eat them all right ... the kids like peas, they like broccoli, they like string beans, so I would do those. I would cut them up into manageable pieces for them. I would give them small assignments right, so I wouldn't pile on a plate of vegetables and expect them to eat it ... The other thing that's helpful though is making them a part of the process. So he's [Moses] got his little toy utensils, help him cut it up, give him the assignment to cut up the vegetables, and to be a part of the process because when you get them in the kitchen and they feel like they're a part of it, they're more likely to try something that they think they've controlled."
Michelle Obama on the importance of using educational programming to expose young people to the world who don't have the opportunity to travel: 
"Well you know, there are many ways to feel, quarantine and poverty is a life sentence for a lot of folks, because I know I grew up poor and working class, and there were many kids in my neighborhood who didn't leave the block let alone, you know? I grew up in Chicago, there were kids who lived on the west side, who never saw Lake Michigan and so, a lot of times kids' worlds are limited only by what they know and see. So, television becomes a way to expose so many young people to what the world has to offer, so that they can dream, and think, and believe and expand their possibilities ... I see this as a way of opening up the world to a new set of families and children. So, we couldn't be more excited about the series. This is the reason why we're working with Netflix — to be able to identify and bring to light programming like this, that has the potential of changing people's lives not just the way they eat, and the way kids see food, but the way they see themselves in the world."
Michelle Obama on her continued passion for kids' health and fitness after starting the "Let's Move!" initiative in the White House:
"Well, I mean, as you said at the start of our conversation, meeting people where they are and right now, parents and families are stuck in their homes, trying to figure out how to work and feed themselves. Everybody's in the kitchen, parents are trying to expose their kids to new foods. These were all conversations and discussions that I started many years ago in the White House. That's what 'Let's Move!' was all about. We knew that we needed to make sure that the next generation was healthy, eating right, exercising, and now we're stuck in our homes where we now are confronted with the realities of how important our health is. So, this show was just a continuation, and I've always said that people learn better with a carrot rather than a stick."
Michelle Obama on her involvement with "The Partnership For A Healthier America" to help feed one million families affected by the pandemic:
"Well 'The Partnership For A Healthier America' was the nonprofit organization we started in the White House to continue the work of 'Let's Move!' and since that time, they've been doing amazing work to ensure that communities are getting access to healthy foods and are learning how to eat it and enjoy it. We're partnering with them with Waffles + Mochi on an initiative we're calling 'Pass the Love,' where our hope is to feed one million families because we are still in the time of crisis. This pandemic has caused people to lose their jobs and their livelihoods and there are millions and millions of people right here in this country who are going hungry. So, we are going to be encouraging people to go to wafflesandmochi.org to learn more about how to give. Like I said in the beginning, like you Tamron, I try to make sure that we have fun, and there's a message, but we're also finding ways to do good because you can do both. You can have fun and you can do good, all at the same time."
Later in the episode of Tamron Hall, puppets Waffles and Mochi joined Hall to reveal what it's like to star in Waffles + Mochi with Obama. They also answered the questions of aspiring child chefs who joined the talk show as the virtual audience.