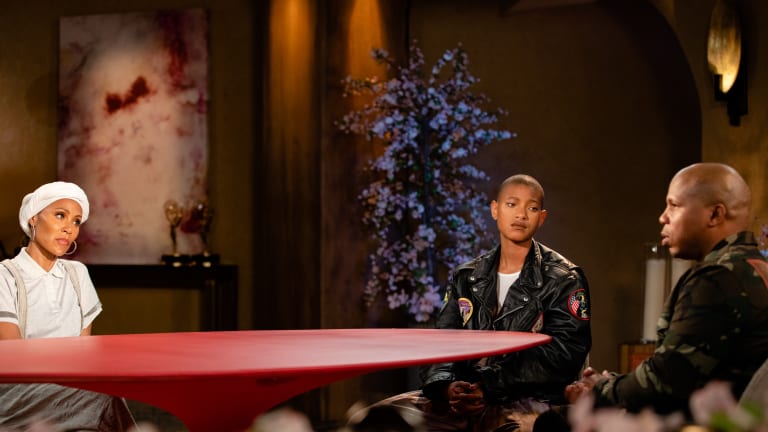 Heard on the Street: Michael K. Williams's Nephew on Losing Him to Fentanyl
Dominic Dupont recalls finding his uncle Michael K. Williams after he fatally overdosed on fentanyl, which the nephew says he wouldn't have taken knowingly.
"I was shopping with my wife. Mike had some work to do the next day and I had reached out to him the night before, and I was concerned that I had not heard from him. We made the decision, you know, go to his house, and I went upstairs, opened up his door and it was quiet. Michael always played music. That wasn't the case. I stuck my head in. I said, 'Uncle Mike, are you in here?' And I observed him deceased, immediately called 911. They said, 'Listen, do you want to start some compressions?' And I said, 'I'm telling you he's deceased. He's gone. He's cold.' I spoke to Michael's publicist, and she said, 'Dominic, you know, this is gonna be on the news in, like, another hour, I'm telling you.' And I looked out his window, and I saw all the reporters, and thought about the responsibility. And my responsibility, my accountability to get the word out about how this doesn't have to be you or your loved one."

"In the four and a half years that I had been home, Mike didn't appear to be overwhelmed or dealing with any major issues but Michael also worked really hard not to have the things that he was going through weigh on other people. [...] And he was an actor, right?I mean, you can fool people. You can convince people that you're OK. But what I would say is this. I'm positive that he would not have knowingly taken fentanyl."
– Michael K. Williams's nephew Dominic Dupont recounts finding his uncle dead from fentanyl and adamantly declares that the esteemed actor wouldn't have taken the narcotic knowingly, during the "Fentanyl: An Urgent Warning for All" episode of the Emmy-nominated Red Table Talk on Facebook Watch. This interview with Jada Pinkett Smith, Willow Smith, and Adrienne Banfield Norris was the first time Dupont spoke publicly about his uncle's death. The co-hosts also spoke with comic Kate Quigley, who revealed she was the lone survivor of a fentanyl poisoning that killed comedian Fuquan Johnson and two of her other friends. In addition, the grief-stricken parents of a 15-year-old girl who died after ingesting a counterfeit Percocet shared their harrowing tale. Watch the episode here.