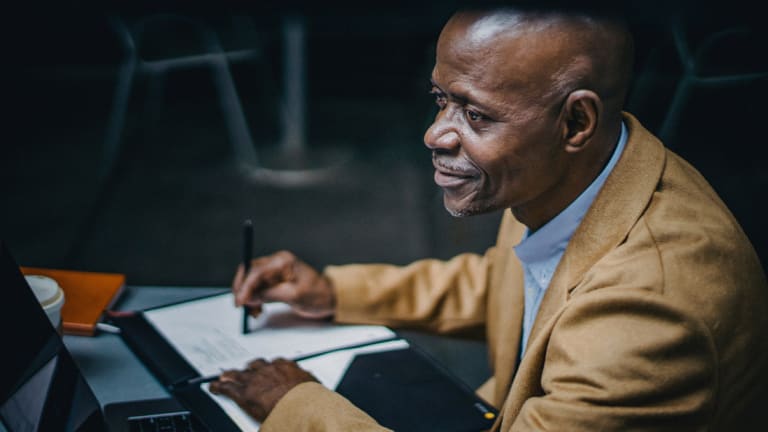 Mentors Are Needed to Help Black Businesses Survive Post-COVID
SCORE is seeking volunteers to mentor Black entrepreneurs, so they can rebuild their small businesses and thrive past the pandemic.
COVID-19 had a disproportionately negative impact on Black-owned businesses, exacerbating the longstanding Black-white wealth gap.
According to SCORE's "Megaphone of Main Street: Impact of COVID-19" report issued in the fall of 2020, Black-owned businesses were more likely to seek – but less likely to receive – outside funding. Among those seeking loans who actually received loans, white business owners (54.2 percent) are more than twice as likely to receive new loans compared to Black business owners (22.3 percent). Meanwhile, 31.6 percent of Black business owners sought new investors while only 9.6 percent of white business owners reached out to secure funds from new investors.
Giving back can mean a lot to a volunteer, just ask Tereance Moore of Hagerstown, MD, who volunteers with SCORE, the nation's largest network of mentors and executives assisting small business owners.
"I volunteer with SCORE because I learned far too many lessons the hard way as a business owner," said Moore. "I'm the owner of two LLCs and the co-founder of two nonprofits. I also serve on eight different boards and committees across Maryland."
Moore says people should not struggle alone to grow the business of their dreams. "There are too many people unaware of SCORE's benefits, and far too many who believe it doesn't exist to serve them, which is the furthest thing from the truth."
SCORE received a deluge of requests for mentoring and expertise as small business owners and entrepreneurs seek advice and support to get their businesses back on their feet in the wake of the devastating COVID-19 pandemic.
The numbers tell the story. In 2020, SCORE mentors helped provide support for 9,152 Black-owned businesses. So far this year, the number stands at 4,392 and counting. Yet, the demand for additional help continues to increase. The impact of the value provided by SCORE mentors to Black entrepreneurs and Black-owned businesses in 2020 alone was estimated at almost $60 million ($59,714,550). But there is more to be done and a need for more SCORE mentors.
More volunteers are needed to support SCORE's diverse client base. Whether you have a few hours a month or a few hours a week and whether you are working or retired, you can volunteer and help small businesses build back through SCORE. Executives and entrepreneurs with marketing savvy, business coaching skills, or expert knowledge in business management are needed.
Subject matter experts volunteer for two to 10 hours per month and consult with mentors and business owners to answer questions in their area of expertise.
Local workshop presenters share their mastery of a business topic or strategy and deliver locally-developed business training for small business owners. The time required can be as little as two to 10 hours for each presentation.
SCORE mentors, like Moore, provide hands-on assistance to local small business owners or aspiring entrepreneurs, helping develop business plans and a roadmap for growth. Mentors have excellent interpersonal and communication skills, as well as broad and expert experience as a business owner or upper-level manager. This role requires training and then 15 to 20 hours per month of volunteer time.
To volunteer, apply today at Score.org. Your local SCORE chapter will reach out to learn more about you and to share information about onboarding and training.
Giving back can be very rewarding, notes Moore, who is one of 10,000 mentors around the nation assisting small businesses. He noted, "With success comes a responsibility to reach back and provide opportunities for others."