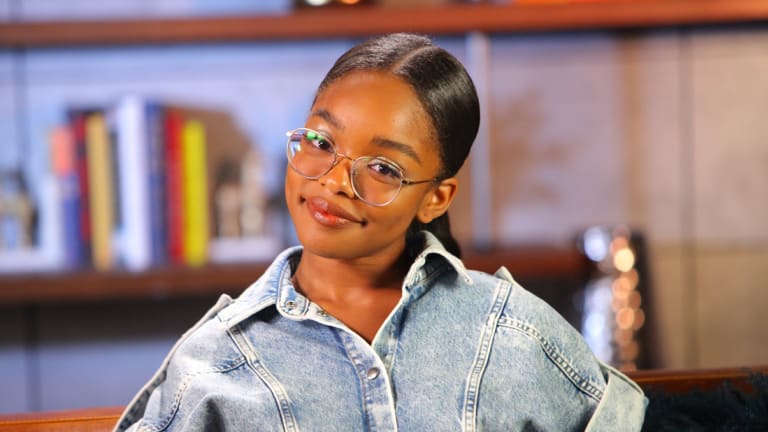 Marsai Martin Is Sharing Personal Finance Knowledge in New 'Money' Series
Marsai Martin says it's important to prioritize financial literacy, as well as teach young people how to use the money tools available to them.
Marsai Martin has joined the In The Know family to share her financial knowledge through a new series, titled Money With Marsai Martin, that launched today.
Money With Marsai Martin features the teenager engaging in candid conversations with BIPOC financial, entertainment, and education experts about financial wellness, including the importance of setting financial goals at an early age and the benefits of having more than one strain of income, like a side hustle. Increasing the financial literacy of Black and Brown youth is a crucial step in closing the racial wealth gap that persists today. In The Know is Verizon Media's video platform and shopping hub geared towards Gen Z, and it recently announced award-winning journalist Elaine Welteroth as consulting editor-at-large. The six-part Money With Marsai Martin furthers In The Know's commitment to highlight diverse voices and perspectives from people who are changing their industry, as well as provide quality content that encourages its young audience to thrive. 
If you're wondering what a 16-year-old can advise young people about money and finances, consider that people often heed advice from their peers. In addition, Martin, as in demand actor and one of the youngest executive producers in Hollywood, has accomplished quite a bit and has a wealth of experience. The black-ish star has a unique perspective on financial independence that she will share with her peers and young fans, so they can achieve financial growth and literacy using the same tools and strategies she did.
"Becoming financially independent has been such an important part of my journey both personally and professionally, so I'm excited to partner with In The Know to share what I've learned from my experiences with people my own age," said Martin in a release. "As one of the most successful and entrepreneurial generations in history, it's important for us to prioritize financial literacy and educate young people on the tools and strategies they need to succeed."
The debut episode of Money With Marsai Martin is available now, and in it Martin talks with Spelman College Economics Professor Suneye Rae Holmes to answer one of Gen Z's most pressing personal finance question: What is money? Other guests will be: Partner and Global Head of Sustainability and Impact at Goldman Sachs, Margaret Anadu; author, investor, and serial entrepreneur, Dawn Dickson-Akpoghene; author and influencer, DJ Envy; financial activist Dasha Kennedy; and top Hollywood business manager Humble Lukanga.
"In The Know is focused on creating original series and content that spotlights diverse voices and supports diverse businesses," said Andrea Wasserman, Head of Global Commerce, Verizon Media. "Building on our successful original content series thus far, Money With Marsai Martin will address an essential topic, not only for diverse audiences but for younger viewers too. We're excited to partner with Marsai Martin who can share her unique perspective on financial prowess."
Other In The Know voices include Hannah Bronfman, Coi LeRay, Brett Gray, Draya Michele, and Mj Rodriguez.
Sharing financial knowledge isn't the only project to grab Martin's attention. Catch her next month voicing Liberty in PAW Patrol: The Movie, and in 2022, she's headed to discovery+ to executive produce and star in an eight-episode series that will give extraordinary teens a personalized bedroom oasis.