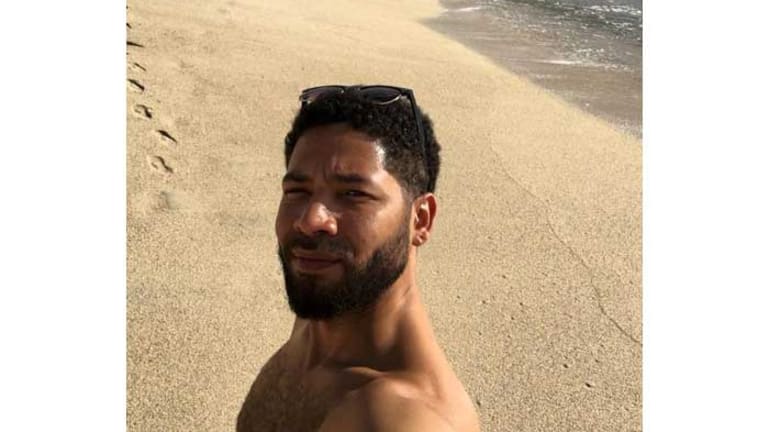 MAGA-Supporting Men Brutalize Jussie Smollett in Homophobic Attack
Celebs and politicians react to the early-morning, homophobic attack on Empire star, Jussie Smollett.
Two MAGA-supporting men brutally beat up Jussie Smollett in Chicago early on the morning of Jan. 29th. The men put a noose around the Empire star's neck and screamed, "This is MAGA country."
Smollett had traveled to Chicago from New York late Monday, and went to get something to eat at a Subway round 2 a.m., according to a TMZ source. As he walked out of the eatery, someone reportedly yelled, "Aren't you that f—got Empire n—ger?"
Smollett fought back during the beating, but the men, who donned ski masks and have been identified as white, got the better of him in the vicious attack that left Smollett with a broken rib. In addition to reportedly using homophobic slurs, the attackers also put a noose around Smollett's neck and poured bleach on him. Chicago Police are investigating the beating as a hate crime.
Smollett was treated at Northwestern Memorial and was discharged Tuesday morning.
In an odd twist of events, eight days prior to the attack, Fox Studios in Chicago received a letter with a message spelling, "You will die black f—." Jussie Smollett's name and MAGA are also written on the envelope in which the letter arrived.
Empire cast and crew held an emergency meeting Tuesday to reveal what happened to Smollett. They were extremely upset, reports TMZ. Some actors had been preparing to come to set when they received the news. There are only a few episodes left to shoot in the season. There was discussion of getting extra security on the set while shooting.
Empire Executive Producer Danny Strong, along with some of Smollett's Hollywood and political friends, took to social media to express their love for Smollett and dismay that the incident occurred.
​
​
​
​
​
​
​
​
​
​