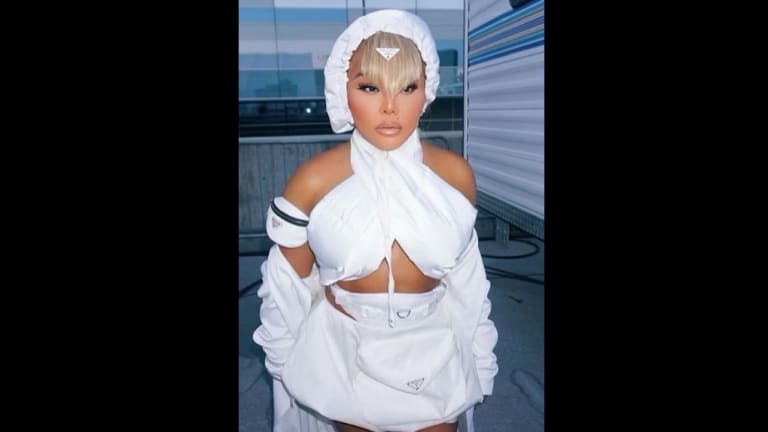 Heard on the Street: Lil' Kim Can Laugh at Herself and Shade 50 Cent, IG Trolls
After 50 Cent compared Lil' Kim's 2021 BET Awards look to a white owl, she took to her Instagram to laugh at herself, shade 50 Cent, and celebrate her husband.
😂😂The accuracy 😭😭 Hilarious 😂 I ain't bothered not one bit. My family & friends more mad than me. 😂

Shit like this don't move me one way or another cause I'm still a bad bitch that n----z bitches, mommies, daughters, and aunties still want to be till this day and I love it!! 😂😂

@50cent I see u still in ur feels about that dinner date u asked me on that I had to turn down. Let it go u have a beautiful girlfriend, I have a loving husband. Let it go.

And for those of u coming at my husband, Mr. Papers, he did real n---- shit. What a husband is suppose to do. 💪🏾💯

All y'all can go to hell. Not Respectfully.

50cent, I address that situation all in my book coming in November. Make sure you go get it. Pre-orders available now.

Be Blessed every one, stay positive.✨
-- Lil' Kim proves she can multitask by shading 50 Cent and the Instagram trolls who laughed at the comparison of her 2021 BET Awards look to a white owl with a heart-shaped face, while simultaneously laughing (hysterically, in my head) at the uncanny resemblance and celebrating her husband Jeremy "Mr. Papers" Neil for supporting her. In her Instagram dragging, Kim claimed that 50 is just salty because she refused his request for a dinner date back in the day (maybe when they worked on "Magic Stick" together). Knowing 50's penchant for perpetuating beefs, if Kim's claim was false, he would've posted about it on Instagram. Instead, he's been promoting his series For Life and Raising Kanan. At least the moment allowed Kim to promote her soon-to-be-released memoir The Queen Bee. Kim wore the all-white Prada look, which included the design house's iconic triangle emblem affixed to her pointy blonde bang, when she, Monie Love, Rapsody, and MC Lyte paid tribute to Queen Latifah at the awards ceremony. Watch the rappers give Latifah her proverbial flowers by performing a medley of her hits below.