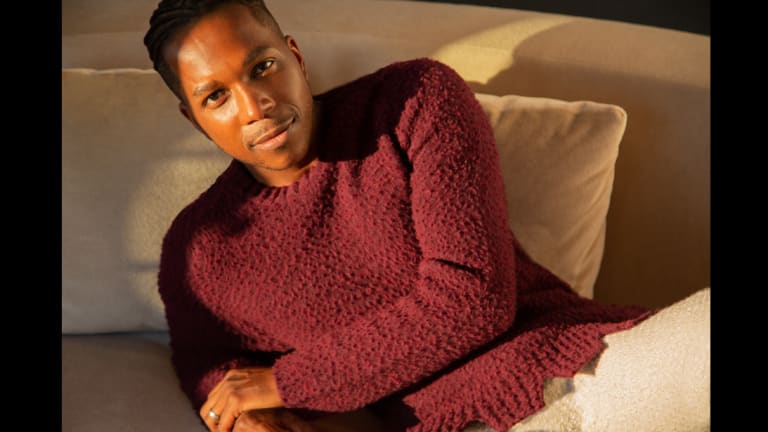 Leslie Odom Jr. on Helping Small Business Survive Today's Biggest Challenge
Through the "We Made a Way" film series, Wells Fargo is sharing small business success stories to encourage entrepreneurs who are facing financial challenges.
To get the word out about its Open for Business Fund, Wells Fargo has teamed up with Tony and Grammy Award-winning, double Academy Award-nominated actor and singer Leslie Odom Jr. for the "We Made a Way" film campaign, which highlights the small business owners who've achieved success despite the challenges they faced during the pandemic.
The Open for Business Fund is Wells Fargo's commitment to offer small business owners access and assistance to secure resources, whether that be financial grants or loans made available through nonprofits and Community Development Financial Institutions. The fund is about $420 million to help small businesses that were affected the most by the pandemic recover. We all know an entrepreneur, or several, who has faced monumental financial challenges during the global pandemic, and sometimes, it helps to know you're not alone and that your peers have come out the other side successfully. The "We Made a Way" campaign features four small business owners sharing their stories of success and how access to resources helped save their enterprises. Not only does the initiative directly connect small business owners to local funding and support, but it also includes peers sharing their stories of inspiration and encouragement. But don't be mistaken, these journeys through the hardship weren't easy, and took grit, determination, and perseverance.
"I have a heart for the small business owner," said Odom Jr. to explain why he decided to partner with Wells Fargo. "I was raised by a small business owner, my sister's a small business owner, my father-in-law. In many ways, I run my business, like a small business. I'm an independent contractor, and I have a little staff that comes with me. (Also) I'm a homeowner, so I support small businesses in my community."
He continued, "We all know how impossible this past year was, and Wells Fargo came to me (and) their only ask was that I would help them get the word out that this fund was there, that this money was there, if you needed it as a small business."
Without giving too much away, because you really should watch the videos, here's a breakdown of the stories that are told through "We Made a Way," according to a release: 
The owners of a music school in Philadelphia were able to get back to sharing their love for music after the pandemic forced them to close their doors for the first time in two decades.

The owner of a Vietnamese restaurant in Oakland pivoted her business model in response to the pandemic – while never wavering in her commitment to frontline workers in her local community.

The owner of a floral shop in Washington, D.C. was able to pivot her business online and keep her passion for the art of flowers alive after events ceased amid COVID-19.

The owner of a soul food restaurant in Los Angeles was able to keep his restaurant open and finance food trucks at the height of COVID-19 – while working to provide meals to those in need.
Odom Jr. revealed why one of the films resonated the most with him.
"I had a personal connection with one of them, the music school that they made the film about," he said. "I grew up in Philadelphia, so I know that school very, very well in Germantown. So yeah, it was a no-brainer, and my pleasure to help them get the word out."
In addition to promoting the small business owners, Wells Fargo commissioned four diverse up-and-coming filmmakers to tell the entrepreneurs' stories through documentary-style short films: Vanessa Briceño-Scherzer of Bowstring Studios, Rafael Gomez of Diptongo Media Group, Andres Paredes of POGI Studios, and independent filmmaker Marcus J. Thomas. The inclusion aspect, not just in the small business owners but also in the storytellers, is one that stuck out for Odom Jr.
"I think that when people are sitting around tables now, when they're (finding) new hires, new projects that are starting, new ideas are being floated around at companies and businesses all around the country, I think people are asking themselves, 'Are we being as inclusive as we can be?'" explained Odom Jr.
He continued, "What I'm saying is that I could see from the the films that they made — you know, Wells Fargo is not a film studio — but what they did was they said, 'We're gonna make these short films to highlight the fact that we have this new program, and these funds available,' and so even in that, 'How can we take the lessons we've learned this year and apply them? How can we prove to ourselves and to our customers that we are not the same, that we are different based on what we've lived through?' And I think that's the bare minimum, the bare minimum, after what we've gone through this year with the pandemic and everything else in this country. You know, we can't emerge from all of this the same as we were. You have to let it change you."
Odom Jr. also explained what an opportunity like the "We Made a Way" campaign can do to assist the filmmakers as they enter the industry.
"I don't think it's a secret to know how difficult it is to get funding off the ground for your very first artistic endeavors as you enter the industry," said Odom Jr. "And all of us, myself included, have depended on partnerships with brands and commercial partnerships to aid us as we climb and rise in the industry that we love so much. You know, Spike Lee has made commercials (and) continues to. I made commercials when I was starting out and it wasn't a completely mercenary task. You know, I wanted to, listen, the money and the survival job part of it was nice, but I also wanted to make art when I could, and I wanted to continue to become a better performer when I could. So yeah, I was very grateful for those very early commercial opportunities that I had. And while I don't want to speak for these filmmakers, I can only imagine — again especially after this past year that we've had — I can imagine that it was a really wonderful opportunity to get to make art."
Even after his tour last year was canceled, Odom Jr. says he used the pandemic as an opportunity to make more art and hopefully spread joy eventually by going on tour.
"Yeah, 16 dates or so got wiped from the calendar," the Hamilton performer and One Night in Miami actor explained. "So a few months later, we got back in the studio and with the intention and the goal really to make good use of ourselves. We wanted to bring a smile to people's faces. And we'd had such a positive response to the very first holiday album that we said, 'Maybe we can make a better one.' … We want to make good use of ourselves. If the holiday albums have brought a smile to your face and brought joy to your household, if the Hamilton cast album has done that or Hamilton on Disney+ has done that, we want to give you an opportunity to come and have a live experience that will incorporate bits of all of that. So it's gonna be a good time. And I know that for lots of people. It'll be quite possibly the first concert experience they've had since the shutdown. So we're going to take that very, very seriously and try to remind people of why live performance is necessary, and why there's nothing like it."
Learn more about "We Made a Way" and the Open for Business Fund here.