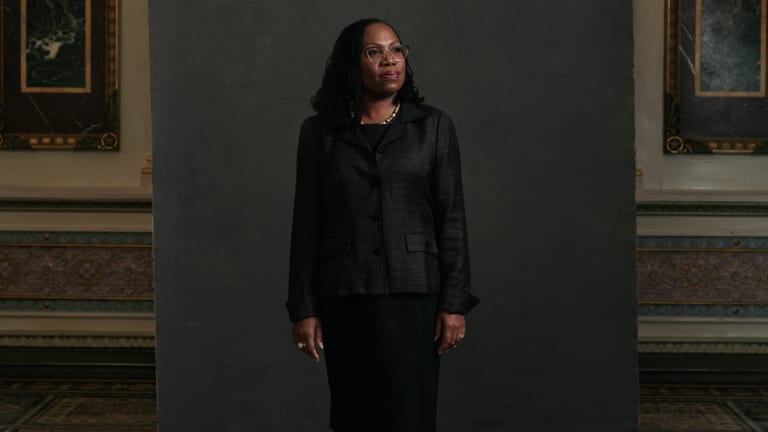 Photog Lelanie Foster Snaps Portrait of Ketanji Brown Jackson After Confirmation
Photographer Lelanie Foster is known for honoring the strength and beauty of Black and Brown individuals in her work that spans fashion, film, and fine art.
The White House tapped photographer Lelanie Foster, today, to capture Judge Ketanji Brown Jackson's first portrait since her historic bipartisan Senate confirmation to the Supreme Court of the United States. 
Foster was quite a fitting choice to shoot Jackson's portrait because the judge's confirmation marks the first time a Black woman will serve on the Supreme Court, and Foster's work addresses themes of identity, sisterhood, beauty, and community among Black and Brown people while also celebrating their strength. The Bronx photographer is known for her unique perspective and sensitive approach to her subjects, which allows her to create imagery that is delicately intimate and warm. Foster's projects range from commercial to fashion, film, and fine art, and include commissions for Nike, The New York Times, Vogue, Harpers Bazaar, Chanel, W Magazine, Dior, Bulgari, and more. In addition, she was chosen to visually interpret the film Queen & Slim through her photography.
When asked what does Jackson's confirmation signify to Foster as a Black woman, she told Ebony exclusively, "For me, it's just incredibly empowering. Anytime we see a Black woman, in front and in these kinds of situations, it becomes incredibly affirming. For us to see them recognized, celebrated, and honored is beautiful."
Foster continued, "For me to be just a piece of that and to have spent that time with Justice Brown Jackson in this moment that celebrates her is so special. I feel like I, too, am seen and heard in this way for such a positive reason. It makes me reflect on how important this is for all Black women to see these moments exist. It's encouraging.
Prominent figures, including Oprah Winfrey and Beyoncé, have shared Jackson's portrait across the internet.
Although she is confirmed as the next Supreme Court associate justice, Jackson isn't expected to take a seat on the bench until after the Court's current term ends in late June or early July. Once Justice Stephen Breyer retires, another member of the Court will swear in Jackson.