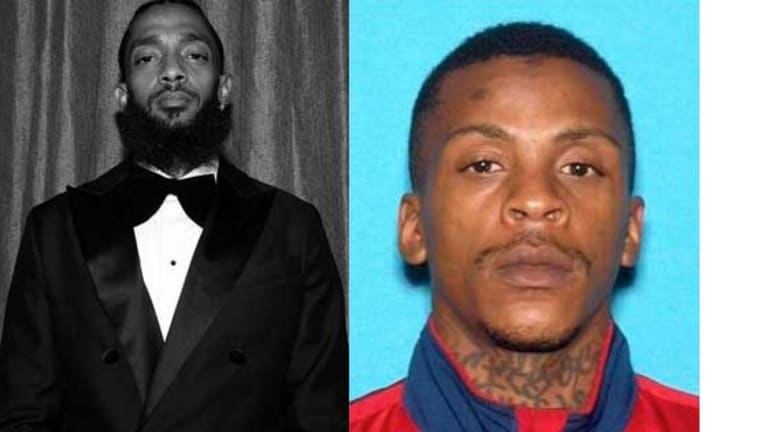 LAPD Identifies Suspect in Fatal Nipsey Hussle Shooting
UPDATE: Los Angeles police arrested Eric Holder, the suspected killer of Nipsey Hussle, on Tuesday, April 2nd.
A witness spotted the 29-year-old gang member in Bellflower, which is about 20 miles from the strip mall where Hussle was shot Sunday, March 31st, said police.
Investigators believe Holder and Hussle had a personal dispute, and Holder returned to the rapper's store more than once before shooting him.Source
The Los Angeles Police Department is asking for the public's help in locating the suspect who allegedly shot rapper Nipsey Hussle on March 31st in Los Angeles.
The LAPD said in a statement that Eric Holder, 29, dressed in dark clothing, walked up to Hussle and two other men who were standing outside the rapper's The Marathon Clothing store in a strip mall on West Slauson Boulevard.
Holder allegedly fired several times and fled to a nearby alley where a vehicle was waiting for him, reports CNN. Police said "an unidentified female" drove the getaway vehicle, which Holder entered from the passenger side.
Hussle died in the shooting and two other victims were taken to the hospital.
Holder is wanted for homicide, the LAPD announced early Tuesday. Last night, cops revealed Holder as the suspect in Hussle's shooting death, following a memorial for the Grammy-nominated rapper that turned violent when shooting rumors caused a stampede that critically injured multiple people.
"Detectives have worked tirelessly and are now asking for the public's help in locating the suspect in this case," police said in a statement.
Holder was last seen in a white, four-door, 2016 Chevy Cruze, with the California license plate 7RJD742, the LAPD tweeted.
Anyone with information on Holder's whereabouts or the shooting of Hussle is urged to call the South Bureau Homicide department at 323-786-5100.
Hussle is survived by his partner and actress Lauren London, children Kross and Emani Asghedom, and brother Samiel Asghedon. Many celebrities expressed their support for London and the Asghedon family via social media.