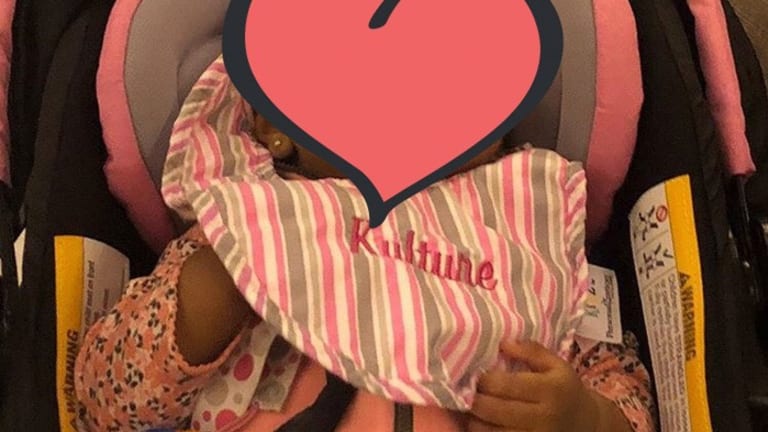 Kulture Kiari Makes Her Debut a Day After Cardi B Reveals Split from Offset
We now know exactly what Cardi B and Offset's daughter Kulture Kiari Cephus looks like.
Cardi B and Offset's daughter Kulture Kiari Cephus was born on July 10, 2018, but didn't make her world debut until this evening, Dec. 5th. We can see her whole cutie patootie face!
Cardi posted an image to Instagram of her daughter sitting in her carseat and wearing a striped bib emblazoned with her name. The new mom captioned the pic with a simple "My heart."
Offset and Cardi seemed intent on keeping their child away from the public eye, but then they broke up, and Cardi posted the image, which leads me to believe it was actually Offset who wanted to keep Kulture's adorable face from us.
On Wednesday, Dec. 4th, Cardi announced via Instagram that she and Offset broke up. "So, everybody been bugging me and everything. And you know, I been trying to work things out with my baby father for a hot minute now," she said.
"And we're really good friends and you know we're really good business partners and you know, he's always somebody that I run to, to talk to and we got a lot of love for each other, but things just haven't been working out between us for a long time," she added.
Cardi continued, "And it's nobody's fault. It's just like I guess we grew out of love. But we're not together anymore. I don't know it might take time to get a divorce. And I'm going to always have a lot of love for him because he is my daughter's father and yeah."