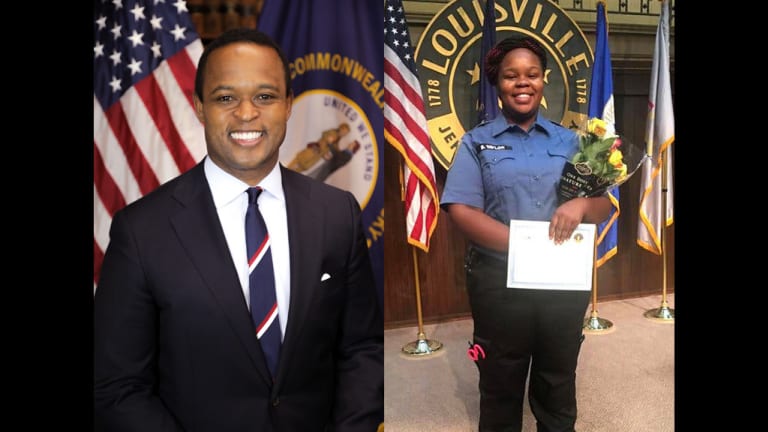 Kentucky AG Daniel Cameron Wants to Redact Info from Grand Jury Recordings
Here's the latest information in the case for the police-involved killing of 26-year-old EMT Breonna Taylor.
Kentucky Attorney General Daniel Cameron filed a motion Tuesday to delay the release of the grand jury recordings in the Breonna Taylor case by a week.
A grand juror in the fatal police-involved shooting case suggested that Cameron may have misrepresented to the public the case he presented to the grand jury, and requested in court that all recordings, transcripts, and reports in the case be made public, reports CNN.
The release of the secret grand jury proceedings was expected Wednesday after a Jefferson County state judge ordered the recordings of the two and a half day presentation to the panel be filed with the court by noon. However, Cameron sought to delay the release for one week in order for his office to "redact personal identifiers of any named person," which he argues is necessary to protect the interest of witnesses, especially "private citizens named in the recordings," according to CNN.
The judge is expected to rule on the motion Wednesday, according to a statement released by Cameron's office.
The anonymous juror's attorney, Kevin Glogower, accused Cameron of "damage control" Wednesday. Glogower argues that it's important for the public to know what charging options Cameron presented to the panel, and whether he recommended charges in connection with Taylor's killing.
Cameron, who was named a special prosecutor in the case in May after Taylor died on March 13th, acquiesced Monday to releasing the recordings, after initially refusing to, despite calls to do so by the mayor of Louisville, the Kentucky governor, and attorneys for Taylor's family. Cameron had said releasing the presentation would interfere with the FBI probe and other investigations.
The attorney general said the grand jury could have considered other charges on its own, while speaking with a CNN affiliate on Tuesday night. "If they wanted to make an assessment about different charges, they could've done that," Cameron reportedly said. "But our recommendation was that [Jonathan] Mattingly and [Myles] Cosgrove were justified in their acts and their conduct."
The grand jury didn't indict Cosgrove or Mattingly, even though it was determined that Cosgrove fired the fatal shot. Cameron said he was justified because Taylor's boyfriend Kenneth Walker fired at officers first.
The third officer, Brett Hankison, was indicted on three counts of first-degree wanton endangerment for blindly firing into Taylor's neighbor's apartment that was occupied by three people.
Cameron didn't seek murder charges against Cosgrove or Mattingly because he says his office wouldn't have been able to prove that at trial. "Ultimately, our judgment is that the charge that we could prove at trial beyond a reasonable doubt was for wanton endangerment against Mr. Hankison," Cameron said, reports CNN.
Glogower said Cameron isn't disclosing what was presented to the jurors. "What Attorney General Cameron is continuously not answering is: Did he give the grand jury the option to charge anyone with anything in addition to the wanton endangerment charges, anything related to Taylor, and did he recommend that they do so?" Glogower said.
Glogower continued, "Did he or did he not present those charges and explain fully how they can apply to this case?"
The city of Louisville settled with Taylor's family for $12 million and agreed to initiate police reforms that may prevent another police-involved death like Taylor's.
Cameron is the first Black person to hold the post of Kentucky attorney general. He will be up for re-election on Nov. 7, 2023.