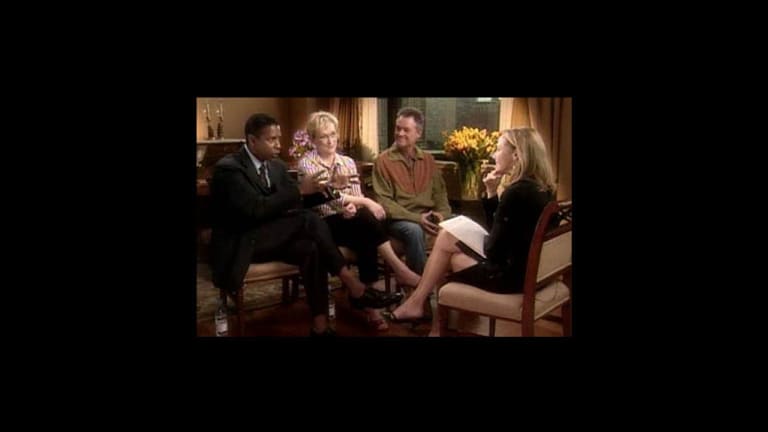 Katie Couric Plays Victim 16 Years After Denzel Washington Interview
Katie Couric is still "shaken" by an "uncomfortable" exchange with Denzel Washington in which she actually insulted him.
Katie Couric recently appeared on a podcast and recalled a 2004 interview in which she says actor Denzel Washington left her "shaken" and "uncomfortable." But many have taken to Twitter, after reading the exchange, to defend Washington and call out Couric for playing the victim.
Couric recently appeared on the podcast Everything Iconic Danny Pellegrino, and Pellegrino prompted her to discuss "the art of celebrity and political interviews," reports Page Six. She recalled interviewing Washington, Meryl Streep, and Jonathan Demme, who were promoting their film The Manchurian Candidate, for Dateline in 2004.
She asked Washington if he agrees with the idea that "Hollywood folks should stick to acting," and that's when Couric says Washington "had gone after me in a way that was completely weirdly uncalled for."
Here's the excerpt of the interview from NBCNews.com:
Couric: "Denzel, are you -- do you feel -- you know some people say Hollywood folks should stick to acting."
Washington: "I don't know what Hollywood folks are, first of all. Hollywood is a town that has some stars on the sidewalk. I don't know anybody from there. So, I don't -- that's like saying -- calling you a type of folks. I'm not a Hollywood folk. I don't know who they are."
Couric: "Okay, all right, well, let me rephrase the question. Are you one of those people that—"
Washington: "Ah, there you go. Am I one of those people? Hmmm, isn't that interesting?"
Couric: "Oh, stop, stop, stop."
Washington: "No, don't stop.  I heard what you just said.  "Am I one of those people?"  No, I'm not."
Couric: "No, are you an actor who would rather not—"
Washington: "No, I'm not that either. I'm a human being. My job is acting."
Couric: "Okay, are you somebody who would rather not express his political views publicly? I mean how do you feel about that? Some people are more outspoken than others. And what I meant, are you one of the people who would rather keep it private? Don't make my questions loaded when they're not."
Washington: "Would I rather keep it private? No, I'm not one of those people. I think I speak what's on my mind."
This exchange doesn't for one moment come off as an attack on Couric. Instead, Washington seems to be defending himself against being grouped into a monolithic group or being seen as a politically-complacent Black man.
Couric told Pellegrino, "I just remember leaving it and thinking, 'God' … I don't think I said anything wrong … I don't know what happened." What was "wrong" was not acknowledging the fact that saying "those people" is a highly offensive racial epithet in 2020, and was as offensive in 2004 when Couric said it to Washington as "you people" was in 1992 when Ross Perot said it to a room full of Black people at the NAACP's annual convention.
It's also worth pointing out that Couric attempted to chastise Washington when she said, "Don't make my questions loaded when they're not."
To add insult to injury, Couric dismissed Washington's reaction to her questioning as "I think he must have been having a really bad day, because he later wrote a big check to my colon cancer organization, which I thought was super sweet." It's more likely that Washington's publicist thought a donation to the charity was adequate damage control, or maybe he planned to donate to Couric's organization because he believed in its cause.
The sad part is Couric seemingly hasn't learned anything from this interview and still seems to view Washington as just an actor and nothing more. "I love him," she told Pellegrino. "I admire him so much, he's one of my favorite actors, but I remember walking out feeling kind of shaken that he had gone after me in a way that was completely weirdly uncalled for."
Several people had similar reactions on Twitter to Couric's interview with Washington, and defended him while arguing that Couric was playing the victim 16 years after the interview. Some also pointed out the impression of sexual misconduct many media outlets gave with their headlines, including Fox News's "Denzel Washington left Katie Couric 'shaken' and 'uncomfortable'" and Page Six's "Katie Couric recalls 'uncomfortable' interview with Denzel Washington."