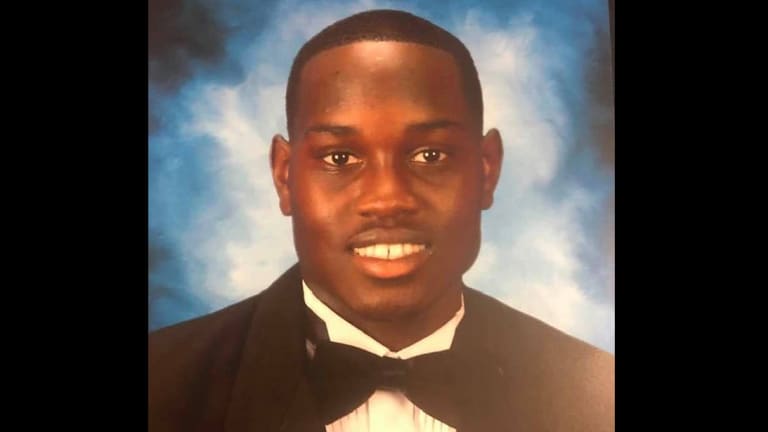 Justice Dept. Charges Three Men Accused of Killing Ahmaud Arbery With Hate Crime
With civil rights as a top priority, the Justice Department has brought federal hate crime charges against three Georgia men accused of killing Ahmaud Arbery.
The Department of Justice announced Wednesday, April 28, that federal prosecutors have indicted the three men accused of killing Ahmaud Arbery with hate crime and attempted kidnapping charges.
Gregory and Travis McMichael, who are father and son, and William "Roddie" Bryan Jr. allegedly armed themselves with firearms and chased down 25-year-old Arbery while he was jogging on a public road near Brunswick, Georgia on Feb. 23, 2020. In a video of Arbery's death recorded by Bryan, Travis McMichael and Arbery are seen scuffling before three gunshots are heard. The McMichaels claimed to be carrying out a citizen's arrest and acting in self-defense. Before the fatal shooting, Bryan allegedly hit Arbery with his truck after he joined the McMichaels, who were pursuing Arbery in their vehicle.
Prosecutors charged all three men with one count of interference with rights and one count of attempting kidnapping, according to a Justice Department press release obtained by CNN. In addition, Gregory McMichael was charged with one count of using, carrying, and brandishing a firearm during and in relation to a crime of violence. Travis McMichael was charged with one count of using, carrying, brandishing, and discharging a firearm during and in relation to a crime of violence.
State prosecutors have already charged the three men with aggravated assault, false imprisonment, and criminal attempt to commit false imprisonment.
Ben Crump, attorney for the Arbery family, echoed Wanda Cooper-Jones's sentiment that the federal indictments were a "huge" step in obtaining justice for her son and their family.
"This is an important milestone in America's uphill march toward racial justice, and we applaud the Justice Department for treating this heinous act for what it is — a purely evil, racially motivated hate crime," Crump said in a statement, reports CNN.
Travis McMichael's attorneys, Jason Sheffield and Robert Rubin, issued a statement to express their disappointment "that the Justice Department bought the false narrative that the media and state prosecutors have promulgated."
Bryan's attorney is also disappointed and maintains that his client didn't commit a crime. "We look forward to a fair and speedy trial, and to the day when Mr. Bryan is released and reunited with his family," Gough said in a statement.
Arbery's killing resulted in Georgia overhauling its citizen's arrest law, according to CNN. His death, along with George Floyd's and Breonna Taylor's set off a summer of protests and calls for police reform in the U.S.
The Justice Department, under the Biden administration, has put civil rights at the center of its priorities. In addition to indicting Arbery's alleged killers, federal officials have moved quickly to open investigations into problematic police departments across the U.S.