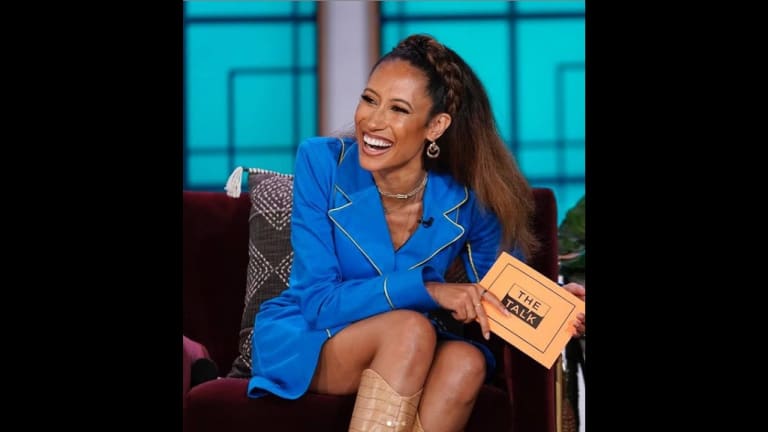 Journalist and Author Elaine Welteroth Is Joining 'The Talk' for Season 11
The Talk is adding Elaine Welteroth and Amanda Kloots as co-hosts for season 11.
The Talk has hired journalist Elaine Welteroth as a co-host for season 11, which will premiere on Jan. 4, 2021.
In early-November, we shared that Eve was leaving the daytime talk show in order to focus on expanding her family with husband Maximillion Cooper, after her three-season run concludes in December. Since then, The Talk has featured a rotation of guest hosts that included Welteroth and celebrity fitness trainer Amanda Kloots, who has also been hired as a co-host for season 11. Welteroth and Kloots will join Sheryl Underwood, Sharon Osbourne, and Carrie Ann Inaba on The Talk.
Welteroth is a New York Times best-selling author, former editor-in-chief of Teen Vogue, and judge on Project Runway. It's not clear whether she'll return to assess the creations of budding fashion designers, as Project Runway airs on NBCUniversal's Bravo and The Talk is a CBS property.
The hiring of Welteroth and Kloots may be a Hail Mary for The Talk producers and CBS executives because the talk show's ratings dropped to 1.5 million, which is half that of The View, reports Page Six. An insider reportedly told the tabloid, "Nothing is working. "We are now the lowest-rated network program and we can't get any traction. To lose more than half a million viewers in a year is catastrophic for a daytime show. Unless we can hire Gayle King, Oprah, or Meghan Markle, the writing is on the wall."
However, a different insider told Page Six show producers and network execs aren't "panicked," and the show isn't on the chopping block.
Any time I've tuned into The Talk it just seemed stale. It didn't relate to me in any way, even though Eve and I are in the same age group. Maybe the answer is to stop trying to cater to several different age groups and demographics of women in one show. What my retired mom looks for in a daytime talk show isn't the same thing I look for as a SINK — single income no kids — household.