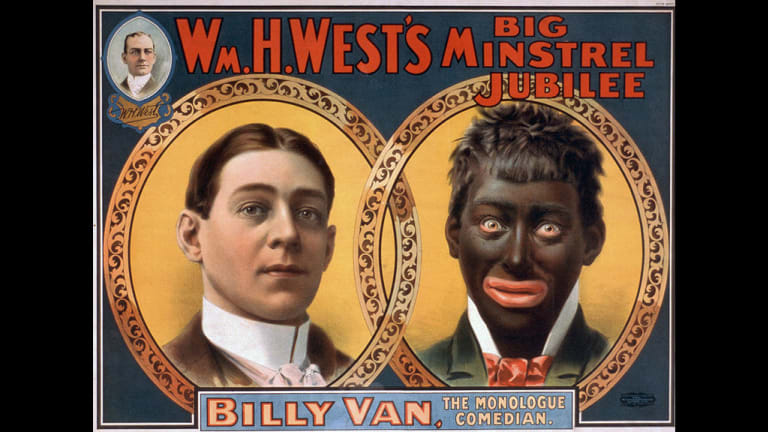 Influencers Wore Blackface to Show Solidarity With Black Lives Matter
Ignorant influencers are using the BLM movement to gain followers and clout with their offensive blackface images.
When I was young, I was a fan of the United Colors of Benetton fashion brand, especially its message of inclusivity promoted in ads featuring pretty, diversely-hued models hugging each other while wearing brightly-colored clothes, or tykes seemingly wearing no clothes and innocently hugging. I often saw these ads in magazines like YSB and Vibe, which were marketed towards Black teens and young adults. I loved when my English relatives sent me Benetton clothing or when American relatives returned to the States and gifted me Benetton gear I knew my peers wouldn't have. I remember being excited when I realized a mall I was shopping in Tennessee had a Benetton store because I had money to spend and I was getting the opportunity to pick out a piece of the Benetton dream myself. But as I walked in with my cousin, the entire store turned around to look at us. It wasn't just the customers, but also the staff's facial expressions that said my 12-year-old cousin and my 13-year-old self didn't belong. I was used to my cousin and I being the only Black people in a room, or a swimming pool, in the area of Tennessee in which she lived, but I naively thought things would be different at the mall in the city because green money is green money. We ended up leaving the store soon after entering. Fast forward a few years later to a day my friends and I were hanging out in New York's Greenwich Village and stumbled upon the Benetton store that used to be on Broadway. We went in, and what do you know, everyone once again turned to ogle the Black girls who just entered. That's when I realized the prejudice wasn't a fluke, and quickly learned that a brand's marketing message can be the antithesis of its in-store culture. I haven't supported Benetton since.
I was recently reminded of the lesson Benetton taught me decades ago — that the message doesn't always vibe with the visual or experience — when I learned from the Instagram account @SaintHoax that influencers are donning blackface in supposed support of the Black Lives Matter matter. Yes, I'm still scratching my head too.
Blackface, as many of you know, became popular in the 19th Century when white actors darkened their skin to perform caricatures of Black people in minstrels. These performances reinforced the stereotypes that Black people were lazy, stupid, hyper-sexual, cowards, and criminals who consumed fried chicken and watermelon like ravenous dogs — stereotypes that still exist today. Not only were these depictions inaccurate, but also dangerous and highly-offensive.
"Minstrel shows were usually the only depictions of [supposed B]lack life that white audiences saw," writes SaintHoax on one of the slides of their post to educate influencers who haven't educated themselves. "The stereotypes promoted by these shows desensitized white people to the horrors of slavery."
SaintHoax adds: "Blackface soared in popularity during a period when southern states were passing 'black codes' to restrict the freedom of [B]lack people and compel them to work for lower wages." They continue, "The codes were also called 'Jim Crow' laws, after a blackface stage character that was developed by Thomas D. Rice, who was regarded as the 'father of American minstrelsy'."
Blackface persisted as entertainment into the 20th Century with the racist D.W. Griffith's The Birth of a Nation glorifying and rebirthing the Ku Klux Klan.
This is why it's illogical for influencers, whether they're based abroad or in the States, to darken their skin in support of the Black Lives Matter movement to stop police brutality and murders of unarmed Black men and women.
Influencer @souhilaofficial posted a photo with half of her face darkened and her "brown" hand holding her other hand in its natural state, and captioned the photo, "Just because we are [B]lack on the outside, doesn't mean that we are black on the inside. Racist people are the true black heart[ed] ones. They are black on the inside, though they do not know it."
Look at @souhilaofficial giving us two offenses — blackface and reinforcing the concept that black is inherently bad — for the price of one.
Others like @fantasticfhd, @hana, and @theozzdil either appear in photos with their entire faces or the visible parts of their bodies darkened with a message of solidarity.
@taniasaleh took her "Blackening" a step further by creating a fully-contoured and highlighted makeup look and wearing an afro wig. It seems she has always dreamed of being Black and the deaths of multiple Black people at the hands of racist police and vigilantes finally gave her the opportunity to pretend to be one. She captioned her offensive post, "I wish I was [B]lack today more than ever…Sending my love and full support to the people who demand equality and justice for all races anywhere in the world."
@rashmimann actually posted a video to her story, titled "The make up tutorial we need today #blm." So how does one create a makeup tutorial that supports BLM, you might ask? Well, according to @rashmimann, you grab the blackest black in your makeup kit and spread it all over your face. Don't forget to look fake-deep directly at your camera, though.
SaintHoax points out in their post that these influencers refused to delete these photos and videos after receiving backlash. "If you genuinely care about a cause, the least you can do is educate yourself about it," writes SaintHoax. "It's infuriating that we still need to educate people about the racist and painful history of blackface. We shouldn't be having this conversation in 2020."
Another conversation we shouldn't need to have now is that profiting from the anguish Black people across the world are experiencing from the all-too frequent murders of our brothers and sisters simply for the color of their skin is deplorable. Black Lives Matter isn't a buzz-worthy phrase to support for clout or influence. It's goddamn dogma! Some of y'all just haven't figured that out yet.