Hennessy Announces the 20 Inaugural 'Never Stop Never Settle Society' Members
Get to know the 20 Black entrepreneurs Hennessy and Marcus Graham Project recently inducted into the "Never Stop Never Settle Society."
Hennessy announced yesterday the 20 inaugural members of the "Never Stop Never Settle Society," a program co-created with Marcus Graham Project to support Black entrepreneurs through funding and access to resources that promote meaningful growth.
Black business owners often have a difficult time securing necessary funding, investments, and loans to further their dreams and transform their communities. Considering this and looking at past models of community-built and -supported successes, like Tulsa's Greenwood District, Hennessy and Marcus Graham Project created the $1 million comprehensive growth accelerator that will further Hennessy's mission to make the business world a more equitable place for Black entrepreneurs. As inductees of the "Never Stop Never Settle Society," members will receive $50,000, and will have access to professional development sessions with the executives of Moët Hennessy and the state-of-the-art Moët Hennessy headquarters in New York City. In addition, the entrepreneurs will gain membership to The Gathering Spot Connect, a Black-owned digital community that offers culturally relevant content, networking, and business development resources. The "Never Stop Never Settle Society" is intended to be a legacy program.
"Hennessy recognizes the tenacity and resilience each selected member embodies as they push the limits of potential to carve their path, address social and economic challenges and make a lasting impact on their community," said Jasmin Allen, Senior Vice President, Hennessy US, in a press release. "Hennessy has always supported the Black community. We are honored to continue this legacy through the 'Never Stop Never Settle Society' by celebrating extraordinary individuals and championing the vision of their businesses."
The 2021 members of the "Never Stop Never Settle Society" include artists, foodies, the wellness and health conscious, techies, and more. Take a look at the list below:
The 2021 "Never Stop Never Settle Society" Members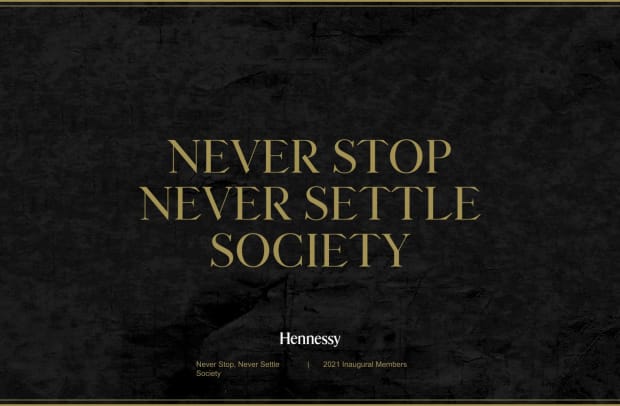 "Marcus Graham Project shares Hennessy's vision to embolden the rich legacies of Black entrepreneurs who are moving the culture forward," said Marcus Graham Project co-founder and CEO Lincoln Stephens in a release. "We are honored to have co-created a platform that will continue to champion Black excellence, celebrate entrepreneurial endeavors, and advance early ventures."