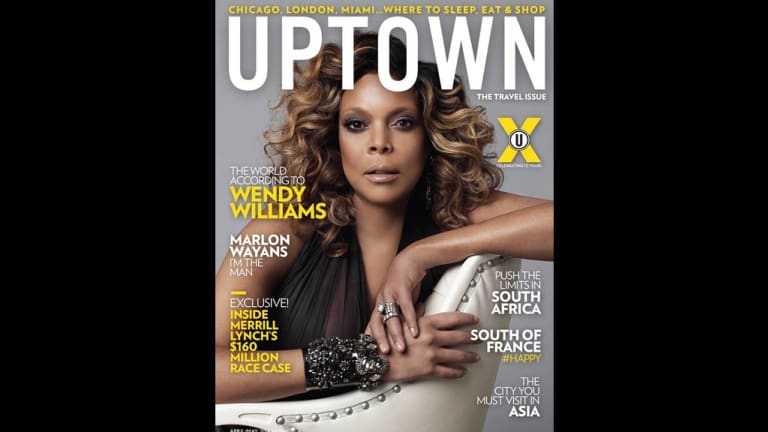 Heard on the Street: What Does Wendy Williams Blame for Making Ex a 'Jerk'?
Wendy Williams claims money and success caused her ex-husband Kevin Hunter's behavior to worsen.
"…Kevin [Hunter] became an ass for lack of a better word. He, the more successful I got and he got, and we believed in each other, the more of a jerk he became."
"He used his good credit to purchase property that he chose to wine and dine his extra marital affairs. This girl [Sharina Hudson], wasn't the only one. She just happens to be the one who kept his baby."
— Wendy Williams, who appeared on the April/May 2014 cover of UPTOWN, blamed money and success for why her ex-husband Kevin Hunter's behavior worsened over the course of their relationship, during an interview on The Jess Cagle Show on SiriusXM. The 56-year-old talk show host also discussed the alleged extramarital affairs Hunter engaged in during their 23 years of marriage, saying the ex who was also her manager wined and dined his mistresses at luxury properties. Hunter and his girlfriend Sharina Hudson, a massage therapist, welcomed a baby girl in March 2019. Williams filed for divorce weeks after the birth, even though she says Hunter begged for her forgiveness, reports Page Six. As of June 2020, Hunter and Hudson were still romantically involved. Williams is currently promoting her Lifetime biopic Wendy Williams: The Movie and documentary Wendy Williams: What a Mess!. Williams served as a co-executive producer for both projects that will premiere on Lifetime on Saturday, Jan. 30, 2021. Watch the trailers below.