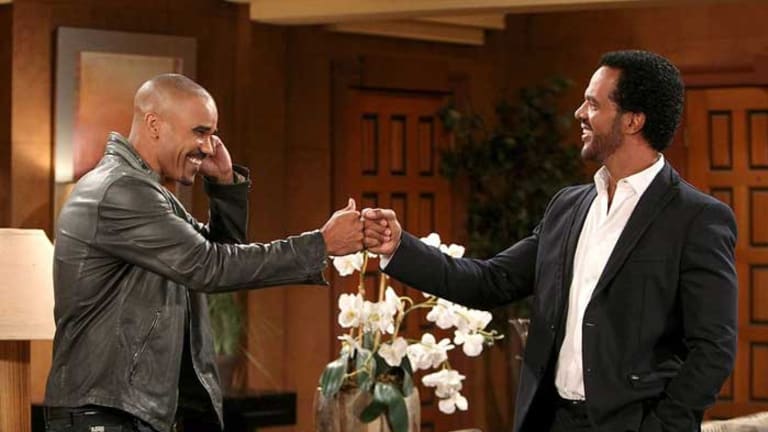 Heard on the Street: Shemar Moore Laments Death of Kristoff St. John
Shemar Moore credits Kristoff St. John with solidifying his acting career when they were co-stars on Y&R.
"I'm raised an only child, but Kristoff is truly the closest thing to a brother and a brother's love and a brother's mentorship that I've ever known."
"He didn't have to embrace me the way he did. When I came in and was trying to find my way and he saw how scared I was, he saw how nervous I was. He saw my six pack and all that, but he just saw me and he embraced me like a brother. If he hadn't embraced me, I would have never got my sure footing in the beginning days."
"Without Kristoff St. John, there's no Neil Winters. Without Neil Winters, there's no opportunity for Malcolm Winters. And without Malcolm Winters, there's no Shemar Moore. And if Shemar Moore didn't get my chance to try on The Young & the Restless, then I don't sit here today with let alone this career or this life. Not in this way. And I will give Kristoff, and I always have given Kristoff — and I'm not just saying this to be cute because of what's happening today — I told him in the beginning because he embraced me the way he embraced me is the only reason that I have the life and career that I have."
"He opened doors for me and many. He opened doors for people who don't even realize he opened doors, but he did," Moore reflected on his legacy. "He opened doors and he was so committed to his craft. He always wanted to be better. He wanted to touch people and he did."
— Shemar Moore laments, in an interview with People, the unexpected passing of his "brother" and former The Young and the Restless co-star Kristoff St. John, whom Moore credits with solidifying his career by embracing him when Moore took on the role of St. John's character's half-brother on the soap opera. Moore also shared his grief on Instagram.