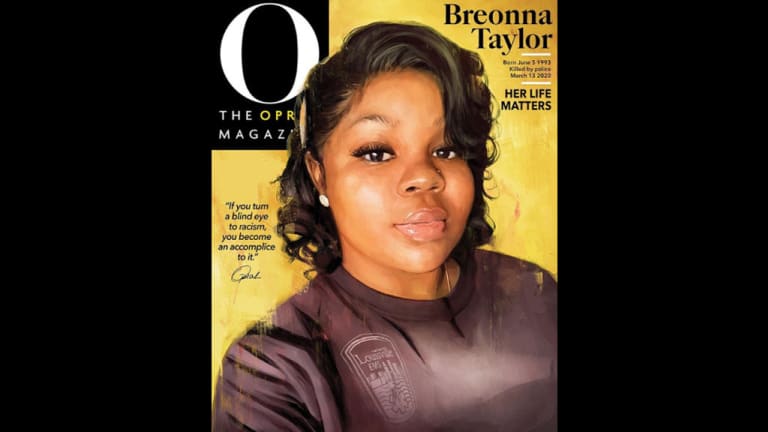 Heard on the Street: Oprah Uses 'Megaphone' to Cry for Breonna Taylor's Justice
For the first time in 20 years, Oprah Winfrey has given up the cover of her O Magazine.
"Breonna Taylor. She was just like you. And like everyone who dies unexpectedly, she had plans. Plans for a future filled with responsibility and work and friends and laughter. Imagine if three unidentified men burst into your home while you were sleeping. And your partner fired a gun to protect you. And then mayhem. What I know for sure: We can't be silent. We have to use whatever megaphone we have to cry for justice. And that is why Breonna Taylor is on the cover of O magazine. I cry for justice in her name."
— Oprah Winfrey explains why she broke from the 20-year tradition of gracing the cover of her O Magazine in order to honor Breonna Taylor, with art by Alexis Franklin for the September issue. Louisville Metro Police killed Taylor while executing a no-knock warrant in a drug investigation during the early morning of March 13, 2020. However, the drug suspect the police were seeking had been arrested hours before the raid at his own home at a different location, and he and Taylor reportedly hadn't been in contact. Civil rights attorney Ben Crump is representing Taylor's family in a wrongful death lawsuit against the three officers — Brett Hankison, Jonathan Mattingly, and Myles Cosgrove — for their roles in the shooting death of Taylor. News of Taylor's death sparked months of protests in Louisville and across the nation with supporters demanding Kentucky Attorney General Daniel Cameron and Louisville Mayor Greg Fischer arrest and charge the three police officers involved. Crump has called on all Americans to use their platforms to demand justice for Taylor. "Breonna's name should be known by everybody in America who said those other names, because she was in her own home, doing absolutely nothing wrong," Crump said in May. The September issue of O Magazine will be available for purchase and download on Aug. 11, 2020. But you can read more about Oprah's tribute to Breonna—and her recent conversation with her mother, Tamika Palmer, here.