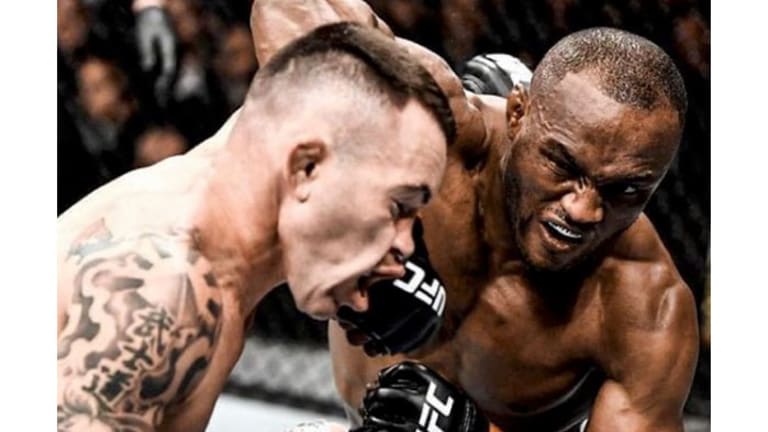 Heard on the Street: MAGAt-Jaw Breaker Kamaru Usman Says He's a True American
UFC fighter Kamaru Usman explains what it means to be an American and why he has realized that dream.
"Let's be honest. I've said it time and time again: I'm more American than him. I am what it means to be an American. I'm an immigrant that came here and worked my ass off tirelessly to get to the top, and I'm still prevailing. So that's what it means to be an American.
It's not necessarily just because you're born here, you feel privileged is what it means to be an American. No. I told you none of these guys work harder than me. That's what it means to be an American. I work my ass off, and I'm going to continue to work my ass off and obviously with good integrity.
I don't have to walk around like a punk and say these certain things that are going to abuse the whole country or abuse the whole world and talk about people and religions — things like that. I don't have to. I'm going to walk with integrity because at the end of the day, I want everyone that's watching me, every eye that's on me, to look at me and say, 'You know what, that's what we want to be, that's the example that we like.' And so, I'm more American than him. So, when they were chanting 'USA,' you damn sure better believe that was because of me."
— UFC Champion Kamaru Usman explains why he is a true American during a post-fight press conference in which he was asked about the crowd chanting "USA" when his opponent Colby Covington, a Donald Trump-supporter, entered the cage. Usman won the UFC 245 fight on Saturday, December 14th, by shattering Covington's jaw like it was glass with one punch during the fifth round. Usman, who is nicknamed "The Nigerian Nightmare," immigrated to the U.S. when he was 8 and became a citizen at 9 years old. Before the fight, Covington promised to present Trump with the championship belt at the White House and mocked Usman's African heritage, questioning, "What has [Usman's] family ever done for America beside serve in the federal penitentiary?" The MAGAt even wore a tailor-made red suit to coordinate with his MAGA hat. Check out Usman rocking Covington's jaw below.