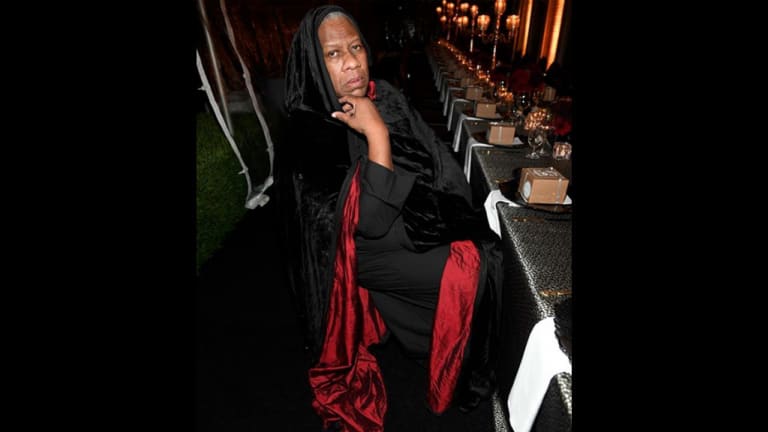 Heard on the Street: André Leon Talley on Anna Wintour Ending Their Friendship
If you've ever wondered what happened between ALT and Anna Wintour, he reportedly goes IN for his upcoming memoir.
"She is immune to anyone other than the powerful and famous people who populate the pages of Vogue.
"She has mercilessly made her best friends people who are the highest in their chosen fields.
"Serena Williams, Roger Federer, Mr. and Mrs. George Clooney are, to her, friends. I am no longer of value to her."
************************************
"Today, I would love for her to say something human and sincere to me. I have huge emotional and psychological scars from my relationship with this towering and influential woman ...
"… she loves her two children and I am sure she will be the best grandmother ... but there are so many people who have worked for her and have suffered huge emotional scarring …. the list is endless. She has dashed so many on a frayed and tattered heap during her powerful rule."
************************************
"This was clearly a stone-cold business decision. I had suddenly become too old, too overweight, too uncool, I imagined, for Anna Wintour.
"After decades of loyalty and friendships ... Anna should have had the decency and kindness to call me or send me an email saying: 'Andre, I think we have had a wonderful run with your interviews [at the Met Gala] but we are going to try something new.'
"I would have accepted that ... I understand; nothing lasts forever. Simple human kindness. No, she is not capable."
**************************************
"What could this talented YouTuber [Liza Kofy] offer?
"Surely she didn't know what a martingale back is to a Balenciaga one-seamed coat? Or did she know that Katie Holmes' Zac Posen dress, worn with great elegance, constructed with great technique, was a homage to the master architect Charles James?
"Like an extinct dodo bird. my brain, rich and replete with knowledge, has been relegated to the history books."
**************************************
"I wonder, when she goes home alone at night, is she miserable? Does she feel alone?
"Anna is so powerful and busy; she simply put me out of her existence. Now she treats me as a former employee, brief greetings, never anything more than perfunctory salutations."
**************************************
"My hope is that she will find a way to apologize before I die, or if I linger on incapacitated before I pass, she will show up at my bedside, with an extended hand clasped into mine and say: 'I love you. You have no idea how much you have meant to me.' Not a day goes by when I do not think of Anna Wintour."
— André Leon Talley, former Vogue editor-at-large, reportedly details how Vogue Editor-in-Chief Anna Wintour allegedly ended their decades-long friendship in his upcoming memoir The Chiffon Trenches: A Memoir, that was obtained by Daily Mail ahead of its September release. The way ALT tells it, Wintour didn't even have the decency to tell him that YouTube vlogger Liza Kofy was replacing him as the red carpet interviewer at the annual Met Gala. In addition, he alleges that Wintour collects famous friends like Serena Williams and Amal Clooney, and throws away others like him when they've lost their value to her. The 70-year-old has lived such an incredible life that we're waiting with bated breath for his memoir. Until its release, we highly recommend viewing the documentary The Gospel According to André.