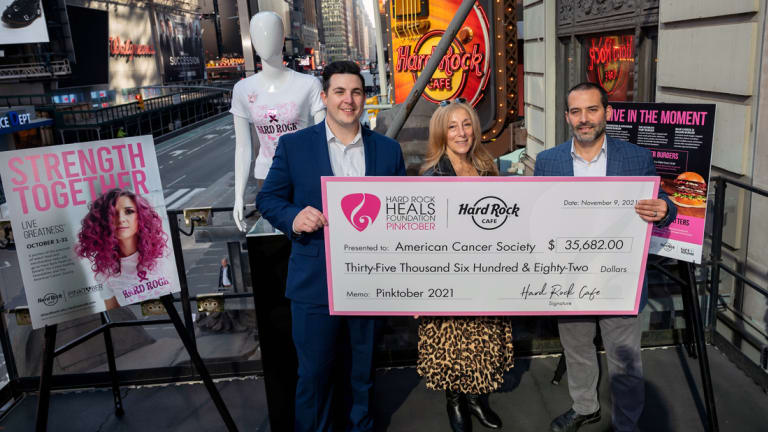 Hard Rock's PINKTOBER Burgers Taste Good and Do Good
Hard Rock's PINKTOBER is one way the entertainment and food brand is helping people and communities that need it most.
Hard Rock's PINKTOBER burgers are not only so tasty that they'll be added to the permanent menu, but they also helped raise money for Breast Cancer Awareness Month. Yesterday, November 9th, Hard Rock presented a check for nearly $36,000 to its charitable partner the American Cancer Society, on the Marquee of the Hard Rock Cafe Times Square in New York.
The funds were raised during Hard Rock International's 22nd annual PINKTOBER campaign. Three specialty burgers — The Mushroom & Bourbon Onion Burger, The Ultimate "Pub" Burger, and The Blue Cheese & Bacon Burger — were added to the menu for the month of October, and $1 from every PINKTOBER burger sold went directly to the fundraising efforts. In addition, Hard Rock Cafes, hotels, and casinos across the world participated in PINKTOBER and raised more than $70,000 through sales of limited-edition merchandise, food, and beverage menu items. The Hard Rock Heals Foundation split those funds between its charitable partners the American Cancer Society and the Caron Keating Foundation. The entire initiative is Hard Rock's way of living its mottos: "Love All — Serve All" and "Take Time to Be Kind."
If you weren't able to sample a PINKTOBER burger last month, don't fret because they were such a hit that Hard Rock is adding them to the permanent menu in January 2022. But before then, a selection of desserts will be added to the holiday menu for its debut on December 1st. The Mushroom & Bourbon Onion Burger and the moist and decadent classic brownie delighted our tastebuds, but we're sure you can't go wrong with any of Hard Rock's offerings.