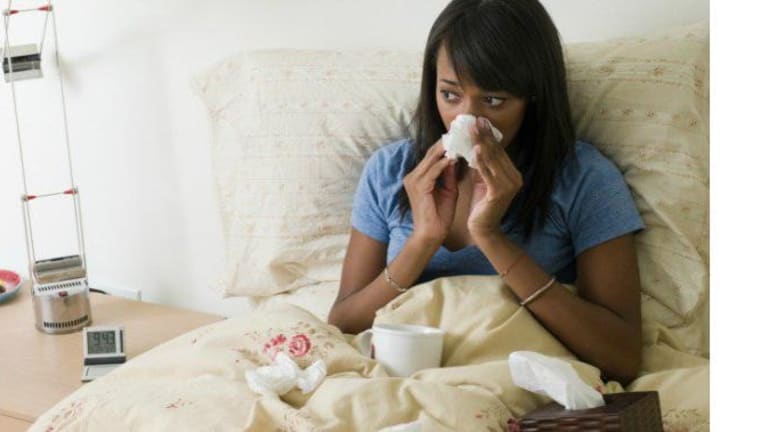 Four Ways to Flee the Flu
As a physician, pathologist, and one time sufferer, I know both professionally and personally the impact of the flu.
Dr. Crystal A. Moore
On a personal note, I used to tell people that I wasn't sure if I had ever had the flu. Well, let me tell you, after I contracted it last year, all doubt was removed. I had never experienced anything like that. In fact, I don't know a single soul who, after having the flu, is not one of the first people in line the next year to get the vaccination.
From a pathologist perspective, I am updated frequently on the spread of the flu, effectiveness of the current year's vaccine, and public health alerts. In the laboratory, we utilize several different test methods to determine if a patient's symptoms are due to influenza infection. My own hands have also touched the potentially devastating outcome of the virus. I once had the sad task of performing an autopsy on a previously healthy, beautiful, curly-headed toddler, who succumbed to the flu.
The flu is much more than a bad cold. It is a debilitating, potentially life threatening virus that is contracted by up to 35 million Americans a year. The Centers for Disease Control and Prevention (CDC) estimates that among those who contract the flu, up to 170,000 will be hospitalized and nearly 56,000 people will die from the flu each year.
Although everyone is susceptible to the flu, there are certain people with chronic diseases that are more likely to develop complications from the flu. These include people with diabetes, heart disease, neurologic disorders, chronic lung disease, or who have a weakened immune system from factors like HIV or chemotherapy. Additionally, the very young (less than 5 and especially less than 2 years old) and seniors (65 or older) have a higher rate of complications from the flu. Pregnant women and people living in crowded spaces, such as a nursing home or long-term care facility, are also known to experience more potential health complications from the flu.
The current flu season is one of the worst in several years. Here are four ways you can flee the flu and stay healthy.
Get the Flu Vaccination. It is not too late. Contrary to folklore, getting the flu vaccination will not give you the flu. The most common side effects include pain and swelling at the injection site, low grade fever, headache, and muscle aches. These effects can be lessened by taking an anti-inflammatory of your choice immediately prior to getting the flu shot and as indicated while symptoms persist. Unless advised by a medical professional, everyone should get a flu vaccination yearly. The groups of people who are more susceptible to complications should be especially proactive about this this life-saving vaccination. Although the flu shot is not 100 percent effective (I, myself, contracted the flu after having the vaccine last year), the benefits of the vaccine far outweigh the risks.
Wash Your Hands Frequently. The flu is spread by droplets from infected people. Sneezing, coughing, and blowing your nose releases these droplets. These are easily spread on public surfaces like doorknobs, handrails, and elevator buttons. So, you may not be in direct contact with someone who is ill, but you may be passing through places they have touched. People who have the flu become contagious even before symptoms arise. Consequently, they may be out and about enjoying the same places you are. To help stay well, keep your hands away from your mouth, eyes and nose unless they are freshly washed. Frequent hand washing with soap and warm water, especially in public places, will go a long way to keeping you safe from all cold viruses and particularly from the flu during this season. If you are unable to wash, keep hand sanitizer available and use it frequently and liberally.
Stay Away from Sick People. It goes without saying that your risk of contracting the flu increases exponentially when you remain in the company of a sick individual. Do your best to decrease contact with those who have the flu and their excretions. If you must help nurse someone back to health, be sure to minimize contact and employ vigilant hand-washing protocol. Don't share glasses, utensils, pillow cases, or cell phones. Use a disinfectant on hard surfaces in the area to clear the virus. If you happen to be the sick individual, do us all a favor and stay home while you recuperate.
Know When to Seek Help. Although there is overlap between cold and flu symptoms, it is imperative to know the differences. In addition to the cough and congestion of a cold, flu symptoms include fevers, gastrointestinal distress, and body aches. In contrast to a cold, flu symptoms have a rapid onset. If you believe you may have contracted the flu, see your health care provider as soon as possible. A simple rapid influenza diagnostic laboratory test can determine if you have the flu and which strain it is in as little as 10-15 minutes. Your health care provider can prescribe antiviral medications that can help decrease the length and severity of your symptoms and decrease the chance life threatening flu complications.
Flu season lasts for several more months. Make sure to employ these four steps to keep you and your loved ones flu free this season. An ounce of prevention is worth a pound of cure and a rapid response may save you weeks of potential illness.
RELATED:Food for Thought: Is Your Meal Harboring a Deadly Pathogen?
​
You can follow Crystal Moore, MD, PhD, FCAP at www.DrCrystalMoore.com, or on social media (@DrCrystalAMoore) for more health information and to receive a Prescription For Life (#RxForLife) to maximize your wellness in body, mind, soul, and spirit. Stay tuned for her soon to be released book, Fast Forward Through The Valley: A 40-Day Devotional to Victory.
Dr. Moore is a native of the Hampton Roads area of Virginia, where she resides with her two teenage sons.
Dr. Moore professed, even as a young child, that she wanted to be a physician. For her, medicine is not just a profession, but also a calling. Following that calling led her to pursue a dual doctorate, physician-scientist, MD/PhD degree at the Medical College of Virginia. Her Ph.D. was awarded in the Department of Biochemistry and Molecular Biophysics. She completed her residency training in Anatomic and Clinical Pathology at Duke University and is a board-certified Fellow of the College of American Pathologists.
As a sought after speaker, Dr. Moore delivers complex information in a highly understandable and remarkably humorous manner. She speaks to the total person and her message heals the body, mind, soul, and spirit. Dr. Moore believes and conveys that health is wealth-not to be taken for granted, but to be actively pursued. Accordingly, she guides individuals and audiences on a journey to wellness and abundant life.