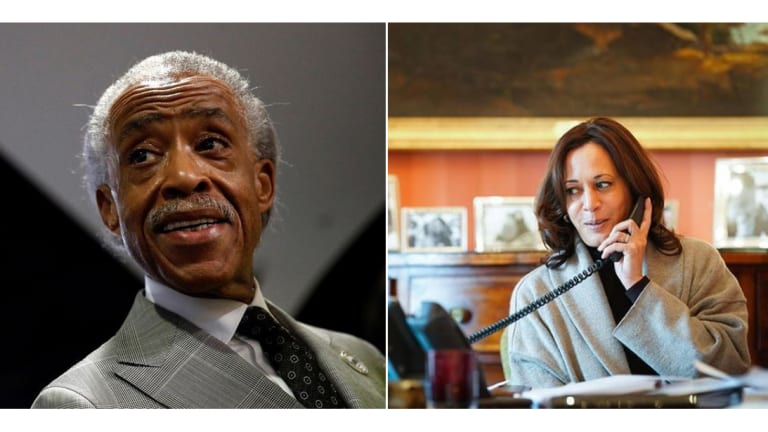 First Look: Rev. Al Sharpton Interviews Vice President Kamala Harris
Vice President Kamala Harris will discuss the COVID-19 vaccine, the American Rescue Plan, and Black History during an interview with Rev. Al Sharpton for MSNBC.
Vice President Kamala Harris sat down (virtually, of course) with Rev. Al Sharpton for an exclusive interview covering a myriad of topics, including Black History and the COVID-19 vaccine. Excerpts of the MSNBC interview will air during tomorrow's Morning Joe at 6 a.m. ET, and the full interview will air on Saturday, Feb. 27, at 5 p.m. ET during PoliticsNation.
With deaths from COVID-19 surpassing 500,000 in the U.S., the vaccine will be the focus of the interview. Harris will specifically discuss the American Rescue Plan and the rollout of vaccinations in Black and Brown communities, while encouraging people of color to take advantage of access to the vaccine. Communities of color have disproportionately higher rates of the virus, and Black small businesses have been casualties of the pandemic.
"And as we continue fighting on other things, voting and all of that, the first thing we have to do is be here and be alive," said Sharpton to Harris, in a preview of the interview that aired today on MSNBC Live with Katy Tur.
"And that — but that's right, Rev. And here's the thing. Let's not let COVID get us," responded Harris.
She continued, "Let's get the vaccine instead, right? Let's not let this thing get us. We know Black people are disproportionately likely to contract the virus and die from it. We know when you look at who the frontline workers are, who have been most at risk, disproportionately we are talking about people of color.
"When you look at the fact that Black small businesses, as many as I've seen, 40 percent are going out of business or have gone out of business. It is disproportionately affecting us and if we want to get control of this virus that is harming us at a disproportionate rate, part of it is to get vaccinated when it is our turn."
Harris then explained that part of fighting COVID-19 is wearing a mask, washing hands, and keeping a safe distance from others, but the other part is the U.S. government aiding citizens through the American Rescue Plan.
"Part of it is to wear your … To wear your mask all the time when you are around other people. Six feet of distance, wash your hands with warm or hot water and soap. Let's save our lives. That's what this is about. We're going to get beyond this, and part of what the president and I are offering as part of the relief is the American Rescue Plan to say it can't only be on folks, it has to be all of us working together. So that's what everybody needs to do as an individual, get the vaccine, wear a mask, social distancing, wash your hands.
"What we need to do is pass the American Rescue Plan so we can get those $1,400 checks to folks, so we can save our small businesses, so that we can pass the child tax credit so that families can lift half of Americans -- children who are living in poverty out of poverty.
"Let's extend the unemployment benefits, let's do all of these things partnering together so that we can get through this moment of crisis."
Harris and Sharpton will also discuss the prominent role Black experts played in the development of the COVID-19 vaccines, as well as commemorate Black History. Harris will also reveal her top priorities for the next four years as Vice President of the United States.