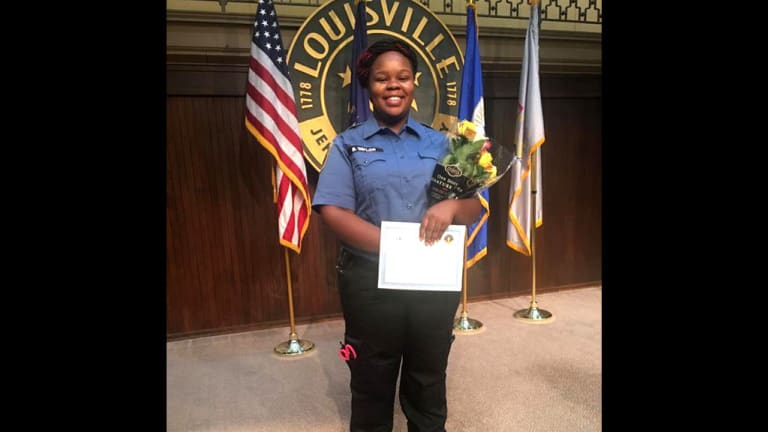 Family of EMT Breonna Taylor Is Suing Louisville Police Officers
Breonna Taylor's family has hired Ben Crump to represent them in a wrongful death lawsuit against LMPD officers.
"They're killing our sisters just like they're killing our brothers, but for whatever reason, we have not given our sisters the same attention that we have given to Trayvon Martin, Michael Brown, Stephon Clark, Terence Crutcher, Alton Sterling, Philando Castile, Eric Garner, Laquan McDonald," said civil rights attorney Ben Crump, who is representing the family of decorated Louisville EMT Breonna Taylor. "Breonna's name should be known by everybody in America who said those other names, because she was in her own home, doing absolutely nothing wrong."
Crump and Taylor's family are intent on bringing nationwide attention to her shooting death at the hands of police during a mishandled raid at her home on March 13, 2020, and have filed a lawsuit against three officers involved in the incident, reports the Courier-Journal.
Louisville Metro Police officers say they were serving a search warrant for Taylor's home, as part of a drug investigation, when they entered her apartment around 1 a.m. The 26-year-old woman was in bed with her boyfriend Kenneth Walker. Crump said the police officers burst through Taylor's door without warning and didn't identify themselves, reports the New York Daily News. As a result, the terrified couple called 911 to report a possible break-in by unknown intruders. Crump said four neighbors have signed affidavits saying they didn't hear police identify themselves, as the building has "paper-thin walls."
Walker was licensed to own a gun and fired his permitted weapon during the chaos, said Crump. Police say Walker shot an officer, and charged him with first-degree assault and attempted murder of a police officer, although the officer was shot in the leg and his injury wasn't life-threatening.
"[Walker] goes to defend themselves and shoots because people were coming through the door at 1 o'clock in the morning," Crump said, according to the Daily News. "The police shot 20 to 30 times from all directions. It's so wrong how Breonna died because the police didn't follow their own policies and procedures. It was reckless and careless."
To make matters worse, the suspect in the drug case had been arrested at his own home, at a different location, hours before the raid on Taylor's apartment. Crump believes police targeted her apartment because she "knew the suspect three years ago."
Taylor's family filed a wrongful death lawsuit against the officers last month. According to the lawsuit, police entered Taylor's home without warning and caught the sleeping couple off-guard, and then "proceeded to spray gunfire into the residence with a total disregard for the value of human life."
"Shots were blindly fired by the officers all throughout Breonna's home," the filing claims, reports the Daily News. "Breonna had posed no threat to the officers and did nothing to deserve to die at their hands."
In addition, the lawsuit states that Taylor worked as an EMT for two local hospitals and Walker was due to start a job with the United States Postal Service. Also, neither had a criminal history of drug or violence charges.
LMPD superiors placed Sgt. John Mattingly, the officer shot during the incident, and detectives Myles Cosgrove and Brett Hankison on administrative reassignment, reports WLKY.
Crump is pursuing key evidence, including the recording of the 911 call Taylor and/or Walker placed, in the officer-involved shooting.
Crump is also working to bring justice to the family of Ahmaud Arbery, after father-son duo Gregory and Travis McMichael pursued and fatally shot the 25-year-old while he was jogging in Brunswick, GA.