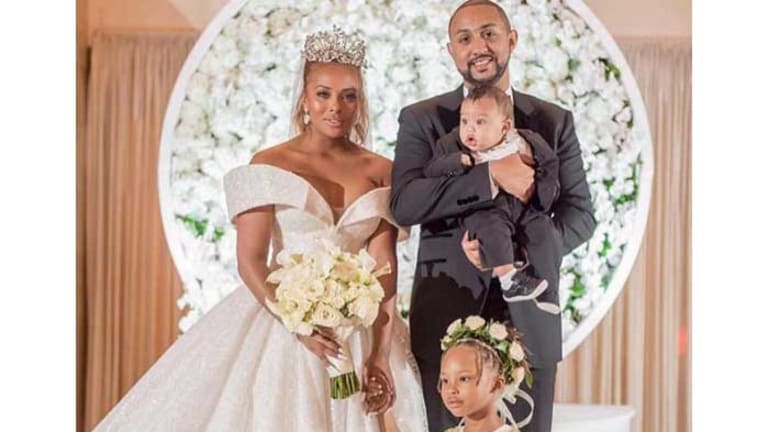 Eva Marcille and Michael Sterling Are Expecting Baby No. 3
Check out Eva Marcille's uber-cute pregnancy announcement photo!
Eva Marcille and her husband Michael Sterling announced today that they are expecting a third child.
Marcille revealed to People that she is 17 weeks pregnant with her third child, and Sterling's second. The 34-year-old is mom to Marley Rae McCall, 5, from a previous relationship. The couple shares 1-year-old son Michael Todd Jr.
The model-mom served in her adorable pregnancy announcement photo that was styled and snapped by Terrell Mullin. Marcille has her signature thigh-grazing blonde braids and dons a pink cropped tank top, undies, and bath robe. She's sipping on a straw in a smoothie. The cute factor ratchets up when you get to her happy-face belly, which is "sipping" from its own straw, using her belly button as a mouth. She is also surrounded by pillows from Eva Marcille Home Collection, an affordable furnishing and decor line.
"Michael and I couldn't be more excited to announce baby No. 3 is on board!" said Marcille to People.
This means she, Porsha Williams, and Kandi Burruss will either be new moms or expecting moms for the next season of The Real Housewives of Atlanta.