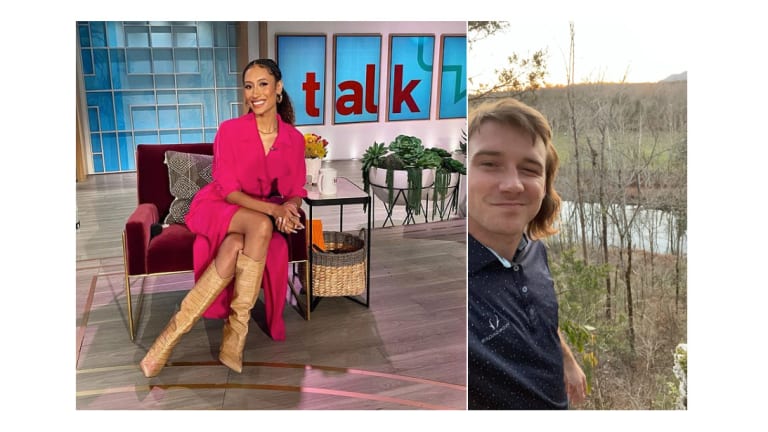 Heard on the Street: Elaine Welteroth on Morgan Wallen Using the N-Word & Maren Morris's Reaction
The Talk co-host Elaine Welteroth said she appreciates Maren Morris calling out Morgan Wallen for using a racial slur and the Country music industry, as a whole.
"This is reflective of her [Maren Morris's] industry. This is common. So, we have to deal with the reality. I think when we gloss over these kinds of things and we say this is not reflective of America; this is not reflective of Country music; and I'm sorry to bring up the insurrection, but when we say that's not reflective of our country, what we're saying is, we're not prepared to deal with the reality — ugly truth. And I think we can't reconcile and heal if we don't deal with the reality.
"So what I appreciate about this moment is that people are standing up and saying, this is behavior I've seen before, and it's no longer tolerable. And I think that it's really important not just for Black folks to speak out against this, but for people [who] look like him [Morgan Wallen] to speak out and say that's not acceptable. Because in this moment, in our country, it is not enough to be not racist. You have to be anti-racist, actively anti-racist, which means condemning those words, condemning that behavior. I think he deserved to have every last contract pulled because it sends a message that this is not going to be tolerated anymore, not in this industry, not in any other industry."
— Elaine Welteroth sounds off on Country star Morgan Wallen using the n-word on video and reacts to fellow Country singer Maren Morris saying his use of the racial slur was "representative of our town," meaning Nashville, during yesterday's episode of The Talk. The co-host also explained the difference between being "not racist" and "anti-racist," saying the latter involves actively condemning racist behavior and discrimination, rather than simply not engaging in the hurtful behavior.
Mickey Guyton, singer of the Country song "Black Like Me," also slammed Wallen's behavior, tweeting, "When I read comments saying 'this is not who we are' I laugh because this is exactly who country music is. I've witnessed it for 10 gd years. You guys should just read some of the vile comments hurled at me on a daily basis. It's a cold hard truth to face but it is the truth." She continued in a second tweet, "I question on a daily basis as to why I continue to fight to be in an industry that seems to hate me so much. But then I realize there is a new artist of color, all bright eyed and excited to be in this industry." Guyton ended her Twitter thread by saying she doesn't believe Wallen should be canceled and should be given the opportunity to redeem himself: "And lastly, I do not believe in cancel culture. Watching anyone fall from grace is a terrible thing to see. People must all be given a chance to change. Morgan must feel the weight of his words but completely throwing someone away is detrimental to anyone's mental health."
TMZ released the video of Wallen saying, "Take care of this p*ssy-a** n***er." Since it went public, Wallen's record label, Big Loud Records, has suspended his contract indefinitely; the Country Music Association removed his content from its platforms; and the Academy of Country Music says he's no longer eligible for its upcoming awards ceremony, reports CBS This Morning. In addition, major radio groups, like SiriusXM; Pandora; and iHeart Media, have stopped playing his music. His second album, Dangerous: The Double Album, debuted at No. 1 on Billboard three weeks ago and broke the record for the most Country album streams ever with 240 million in its first week. 
This isn't the first time Wallen has been at the center of controversy in the past year. He was arrested last May for public intoxication and disorderly conduct at Kid Rock's bar in Nashville. The charges were eventually dropped. In addition, Saturday Night Live uninvited him as the musical guest in October after video surfaced of him partying without a mask and kissing fans. He later performed on the comedy sketch show in December.
Wallen has apologized for using the n-word. "I'm embarrassed and sorry. I used an unacceptable and inappropriate racial slur that I wish I could take back," he said in a statement obtained by CNN. "There are no excuses to use this type of language, ever. I want to sincerely apologize for using the word. I promise to do better." The Nashville NAACP has invited him to have a conversation to learn why the racial slur is so offensive, reports CBS This Morning.
Fans of Wallen have reportedly taken to social media to say his apology is enough, so it's unclear whether the backlash will change the culture of the Country music industry.