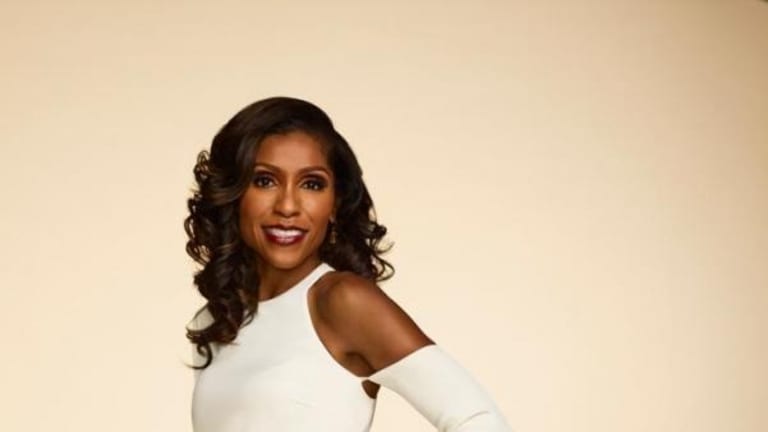 Dr. Jackie: Tested Yet Unbroken
The fifth season of Married to Medicine has proved that remaining happily married is definitely easier said than done.
Written and reported byAnnika Harris
The premiere episode found Dr. Jackie Walters reeling from the revelation that her husband Curtis was having an affair after the news hit gossip sites, and it became extremely clear that this would be the season in which most of the women would find marital bliss hard to come by.
Toya Bush-Harris has been complaining that her sex life is nearly non-existent as a result of her husband, Dr. Eugene, picking up extra shifts to earn money to get them out of debt. Quad Webb-Lunceford has been pleading for appreciation from husband Dr. Gregory. Dr. Simone Whitmore and husband Cecil have been living separate lives in separate homes, which has resulted in her filing for divorce recently.
Although, Dr. Jackie alone has infidelity to contend with, it seems after 11 episodes that she is getting back to some normalcy -- even if Curtis is only welcomed home for private dinner dates. With one of Atlanta's top OB/GYN practices, releasing her breast cancer warriors book Perfect Imperfections, advocating the FITNI (Fit Is The New It) lifestyle, and remaining one of the most genuine friends on Married to Medicine, Dr. Jackie seems to have discovered the perfect prescription for when bliss turns to hell -- stay busy and pretty.
Dr. Jackie opened up to UPTOWN about filming a reality show during this stage of her marriage, who's culpable for the affair, how she stayed sane and lets loose, how she plans to repay her co-stars, her dream vacation, and more.
How did you feel about the season opening with your marital issues?
Dr. Jackie Walters: It was a difficult time to share. It was something that if I could've changed, I would … But this season of Married to Medicine shows that all marriages are tested, and that a lot of my cast mates were going through a rough patch in their marriages. This season of tumultuous marriage helped us be there for each other.
How have you remained sane during this ordeal? Most people experiencing infidelity or another relationship issue don't have to do it with cameras rolling.
Dr. Jackie: Well being honest, I've had moments where I definitely had to pull myself together before, during, and after the cameras were rolling, but intense counseling has been instrumental in my staying sane. Being able to talk through everything and being completely open and honest with each other has helped my healing process.
What would you say to someone who asserts that you are to blame for the infidelity or that you made your work a priority before your marriage?
Dr. Jackie: I would say that I do NOT and will NOT own any responsibility of what my husband chose to do. I will say that while we are working on our marriage, I am working on ME, most importantly, along with the things that I can change in our relationship to continue evolving.
It seems most of the women of the show are at a crossroads in their marriages. What do you think is behind some of the troubles that Quad, Dr. Simone, etc. are experiencing?
Dr. Jackie: I don't want to comment on what I think is behind some of the troubles in their marriages, but I will say that sometimes crossroads arise, as with my own marriage, but we all have to deal with them in a way that's best for us, and for them to know that I am here to give my support and love to them the same way they gave it to me.
What has being a member of theMarried to Medicinecast meant to you?
Dr. Jackie: It's a grand opportunity. I have been given a platform to discuss and share issues that most women deal with at some phase in life from breast cancer, fitness, infertility, parent with Alzheimer's, and now infidelity. I received tons of emails from people saying that watching the show has helped them deal with their own personal issues. So Married to Medicine has allowed me to reach an audience that I may not have had an opportunity to touch.
How do you let loose?
Dr. Jackie: Shopping!!!
What would a "dream day in the life of Dr. Jackie" be?
Dr. Jackie: A dream day in my life would be to wake up with no alarm, spend quiet time with God on a balcony on a beach, have a cup of coffee, work out, have a nice spa day, shop until I drop with limitless money, take a few single moms shopping, and a great dinner with my husband.
Where are your favorite places to rest and relax, play or turn up, shop, and eat?
Dr. Jackie: The locations can be anywhere in the world. I don't get much rest, but if I did, I would have to say ... my favorite place to rest and relax is in the comfort of my own home. Places of play and turn up are in warm serene climates. My dream trips are to go to Dubai and Jerusalem!
Married to Medicine airs Friday at 9/8c on Bravo.
[Main image: Bravo TV/Secondary image:JackieMD.com]