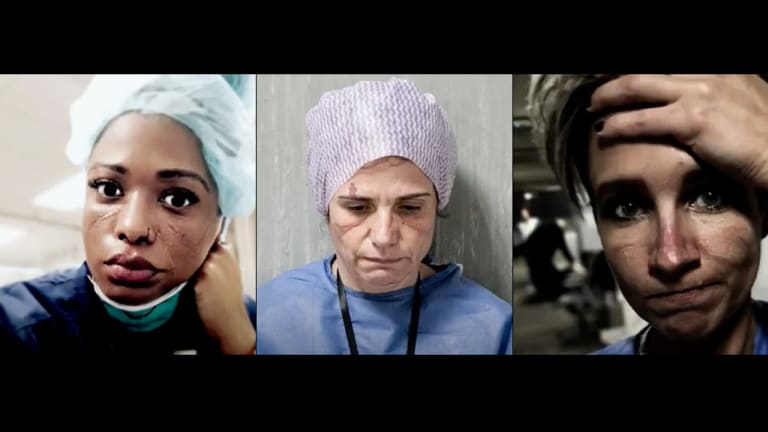 Dove Is Taking Action During the COVID-19 Pandemic, Here's How [VIDEOS]
Dove has the back of the all-too important front-line healthcare workers and the community at-large during COVID-19.
As a brand with "care at its core," Dove has made a point to take action during the COVID-19 pandemic with its "Take Care, Be Safe" campaign. It's helping front-line caregivers, essential workers, and people who are social distancing by dedicating products and resources, offering hand-washing guidance, and donating financial support worldwide. In addition to producing the digitally-untouched Courage is Beautiful film that celebrates the daily heroic acts of healthcare workers, Dove also has the back of the community at-large, including those who are hungry, teens, and parents. Take a look below at how Dove is offering care below.
Honoring Health Care Workers:
To recognize the incredible healthcare workers on the front-lines and raise awareness for the realities of their heroic daily acts, Dove has created the Courage is Beautiful film (above), which features images of people fighting for our safety every day, demonstrating self-sacrifice, and putting their patients and community first for the greater good. This film will run on TV and social media to serve as a reminder of those risking their lives for our safety.
In partnership with Vaseline, Dove has made a $2 million donation to Direct Relief to go towards PPE, ventilators, and medicines for healthcare workers on the front-lines. Dove is also working with Direct Relief to donate additional personal care products to hospitals and health care centers in the U.S., following a 200,000 mask donation to local hospitals in New Jersey, where Dove is based.
Direct Community Support:
$2.5 million worth of Dove products has been pledged to Feeding America so far as part of Unilever's global commitment to donate €100 million ($108 million USD) worth of products and food to those who need it most.
Dove is participating in Unilever USA's United for America efforts, including a national Day of Service on May 21, when every essential item produced that day by Unilever at its U.S. factories will be donated and delivered to community partners.
Raising Awareness for the WHO Guidelines:
Dove is helping to spread the message about the importance of washing hands properly and frequently, in line with the World Health Organization's guidance. Dove is turning some of its TV ad-spots into timely reminders that people need to get up and go wash their hands. The brand's message is that it doesn't matter what brand you use – wash with any soap, just remember to do it often to care for yourself, your loved ones, and the world.
At-Home Support for Teens & Parents:
The Dove Self-Esteem Project is adapting its current tools and programs to support teachers, parents, guardians, and caregivers tasked with remote learning to reach teens and young people with self-esteem and mental health education while schools are closed. (Sources here.)
In addition to these free online tools and resources, Dove will launch a four-episode series to reach teens directly on social media with accredited self-esteem education. Topics will cover: Wellbeing at Home, Using Social Media Wisely, and Building Body Confidence.
Although Dove has initiated its "Take Care, Be Safe" campaign, the brand continues to look for new ways to help during this challenging time. Learn more about the initiative here.